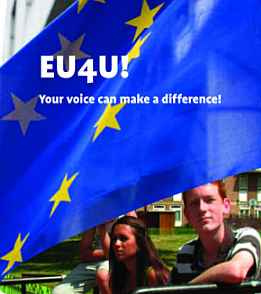 EU4U! is a film made by a group of young people from Newham and Hackney, East London, who received training and work experience as a professional film crew, supervised by experienced film makers Redcurrent Films.
It explores the link between their immediate environment and their quality of life.  The film builds on research previously undertaken by Capacity Global, which looked at young people's attitudes towards their environment, and shows how Jean Lambert MEP is bringing these findings to the policy process in the European Parliament.
"Made up of 732 MEPs representing 25 countries across the EU, the European Parliament impacts on our lives in more ways than we often realise. It can however be extremely difficult for young people to understand how the parliament works let alone how they can use it to get their voice heard and make a difference back here in the UK.
As our starting point for the DVD we took ideas that had come from prevoius work I had completed with another group of young people and demonstrated how elected representatives can take these forward. By working together we can make the positive changes we all need for a better future."
Jean Lambert MEP
For a free copy of the DVD EU4U! please contact Jean Lambert's office.
EU4U! is designed by www.lifework.biz