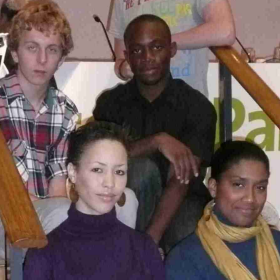 Students from Southwark and Lambeth spoke out about the police's stop and search policy, which they believed was worsening relations with the police and amongst people of their own peer group.
The young people were invited to a panel at the Green party conference by Jean Lambert, the Green Party Euro MP for London. The session, held on Sunday at SOAS, University of London, was well-attended and a lively debate ensued which touched on the media's negative reporting of young people and how relations within communities could be improved.
Jean Lambert MEP said:
"All too often young people are consulted on policy only in a tokenistic way; we need to listen and engage with young people to make a positive difference to their lives. There is currently a climate of prejudice and mistrust about young people and it has to stop.  
"Youngsters in London face high levels of child poverty, inequality and unemployment. Parents are often forced to work long hours on low pay and can find they have limited time to spend with their children to give the care and attention they deserve. One way the Government could make a difference to children's lives would be by ensuring that everyone is paid a decent living wage."
The stop and search policy came in for particular criticism and none of the students felt that it enhanced their safety. Their own experiences contributed towards a sense of unease towards the police and they felt that the police's behaviour was discriminatory both on grounds of age and race. They said that they actively avoided the police to avoid being stopped and questioned.
Bellavia Ribeiro-Addy from Lambeth, who is the National Black Students' Officer at the NUS, said:
"The majority of young people are not involved in gangs and knife crime, but the media paints a very negative image of us. It's time for people to stop being scared of young people and stand up to those that seek to intimidate. The stop and search policy is failing young people and adding to the sense that young people are trouble-makers."
Mikayla Forde from the Youth Global Concern Network in Camberwell also joined the panel and added:
"In the black community many boys do not have good role models to look up to; there is a high proportion of absent fathers and relatively few black male teachers. Many lessons at school do not seem relevant for black youngsters and too often black kids are not encouraged to develop their career prospects. The government needs to address this problem otherwise more young people will be turned off education and will continue to feel that their opportunities in life are severely limited."
Jean Lambert MEP, Bellavia and Mikayla were joined by Sam Bradley and Aldaine Wynter, both students at the City of London Academy in Bermondsey.
Photo:  Jack Cassidy, Aldaine Wynter, Bellavia Ribeiro-Addy, Mikayla Forde