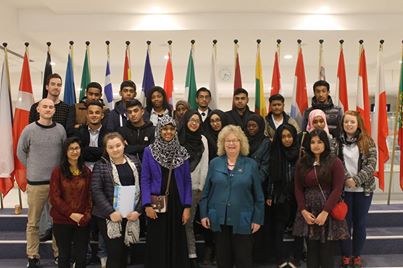 13/02/2014 LONDON'S Green MEP Jean Lambert this week welcomed a group of visiting school students from St Paul's Way Trust School in Mile End.
They were visiting the European Parliament HQ in Brussels.
Ms Lambert, a member of the Youth Issues cross-party Intergroup, said: "Welcoming school groups from London to the European Parliament, and getting the chance to explain a bit of the EU's vital role, is one of my favourite tasks as an MEP.
"Polls show us time and time again that young people care more about the issues like the environment where the EU is a more progressive force than the UK – but we all know that European politics can seem a little complicated and detached from everyday Londoners' lives.
"That's why it's so important to link the two – both to make the EU seem a little less remote and to explain how young people can get more involved."