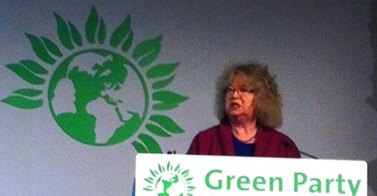 27/02/2014 The future shape of Europe is at stake in May, London's Green MEP Jean Lambert warned in a hard-hitting speech outlining some of the reasons why the European Parliament matters.
Highlighting where European Greens have made a difference – from capping bankers' bonuses to fighting discrimination, Ms Lambert said Greens were the only party offering a positive vision for change – and warned of the dangers of a rise in right wing extremists.
Ms Lambert said: "Europe makes a difference – and Greens make a difference in Europe. From capping bankers' bonuses to protecting workers' rights, we are at the forefront of the battle for a fairer society.
"The next few years are crucial for the future of Europe – whether we move towards increased division or enjoy our diversity. There will be struggles over energy policy, over citizens' rights and freedoms, and to protect our public services from privatisation.
"We don't need more MEPs who will defend the City of London but won't combat poverty – or who will support fracking but not free movement. We need people who will protect decent standards of welfare, housing and human rights – who will fight to protect our environment and build a future economy based on sustainable jobs, not asset bubbles.
"After suffering years of appalling austerity policies people feel let down by politicians and think there are no real choices. This is happening in many countries, including here with the Coalition of the willing-and-the-slightly-reluctant, and Labour not looking any better. But this leads to the danger that the only choice they see is between the status quo and those right wing parties who'd erode our rights and leave Europe altogether.
"Make no mistake – the future direction of Europe is at stake in May. Greens want a place where people are treated with respect and dignity – we cannot let these xenophobic parties gain ground. We defend diversity, not bankers' dividends.
"Greens are the only party offering a positive vision for the future of Europe, and who are making change happen. Europe needs more Greens."