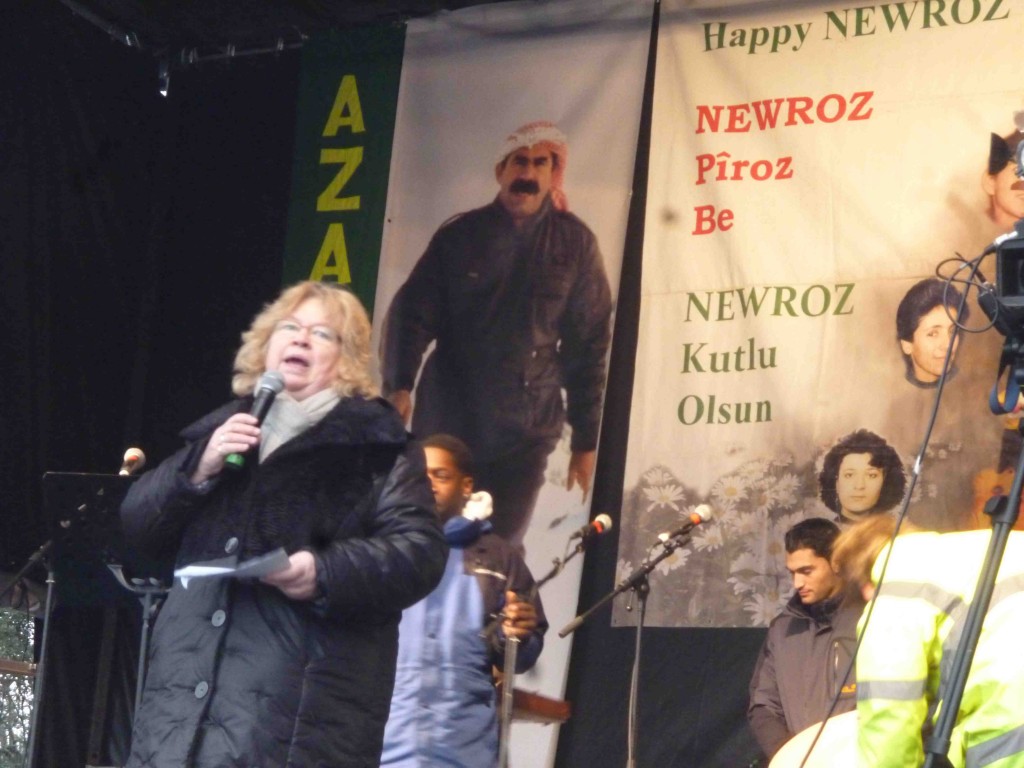 21/03/2014 EURO-MP Jean Lambert has wished all in the capital a 'Happy Newroz' ahead of an event to mark the festival in Finsbury Park on Sunday.
Speaking before the event, the Green Party MEP, who is also a patron of the 'Peace in Kurdistan' group, said:
"Again, I wish the Kurdish people peace in the next year – especially in Syria, where so many have died or been forced to leave their homes.
"I wish you justice: that the murderers of your three sisters in Paris will be tracked down and punished.
"I wish you democracy and success in the elections in Turkey. I shall send that message on Twitter! Let us hope the Turkish government has realised how undemocratic it is to stop free speech, which is a basic freedom.
"I also wish you success and happiness in the year to come – and peace in your home and your community.
"I also hope that you will use your democratic right in London and will vote in the European elections on May 22. I know you will vote wisely.
"Happy Newroz."
Background
The largest festival of the Kurdish community in the United Kingdom, Newroz marks the beginning of the Kurdish New Year and the feast of Kawa, who, according to legend, liberated the people of Kurdistan from an evil tyrant.
The celebrations, a symbol of Kurdish identity, were banned in Turkey until 2005 where thousands of people would be detained during the festivities.
Newroz – which means 'new sun' or 'new day' – marks the beginning of the Kurdish New Year, and the feast of Kawa the Blacksmith who, according to legend, liberated Kurds and many other nations of the region. It is the largest festival of Kurdish, Turkish, Turkish Cypriot and Iranian communities in the UK.
Kurds fled to Britain in large numbers about 20 years ago, mostly from Iraq and Turkey, to escape the violent suppression of their right to assert their own identity, language and culture. Marking Newroz, or new year, is not just a calendar date but a political act, because until recently Kurdish Newroz was forbidden in Turkey.
There are Kurdish regions in Iraq, Turkey, Iran and Syria, and people from all those regions are represented in London. Over 50,000 Kurds now live in London, with many from Turkey living in Hackney and many Iraqi Kurds in Hammersmith.
For more information on London's Newroz commemoration, click here .