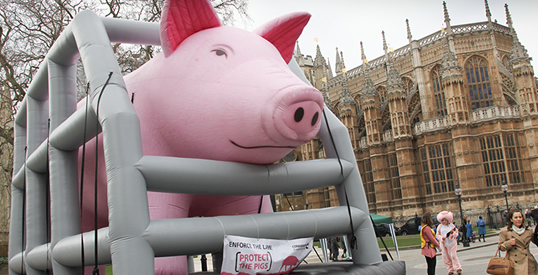 LONDON'S Green Euro-MP Jean Lambert has formally asked the European Commission to enforce 2008 legislation outlawing cruelty to pigs.
Ms Lambert has joined forces with MEPs from across Europe to write to Tonio Borg, the EU Commissioner for Health and Consumer Policy, demanding action be taken to enforce the Pigs Directive.
Ms Lambert said: "There is clear evidence that many EU pig farmers are infringing important provisions of the Pigs Directive and this is completely unacceptable.
"I welcome the fact that the Commission is producing guidance on this issue, but it seems some are using this as an excuse for inaction.
"The legislation was finalised years ago now, and has been fully in force for over a year, and we now need to EU and all Member States to take effective steps to ensure proper enforcement."
Her intervention comes after undercover investigators from Compassion in World Farming found pigs in more than 100 farms in ten EU countries being kept in filthy conditions, denied opportunities to engage in natural behaviours – and subject to routine tail docking – all in breach of the Pigs Directive.
Some 400,000 EU citizens have, in a separate initiative, signed a petition calling on the EU Commission to enforce animal welfare legislation on pig farms, particularly the clause prohibiting the keeping of pregnant sows in 'sow stalls'.