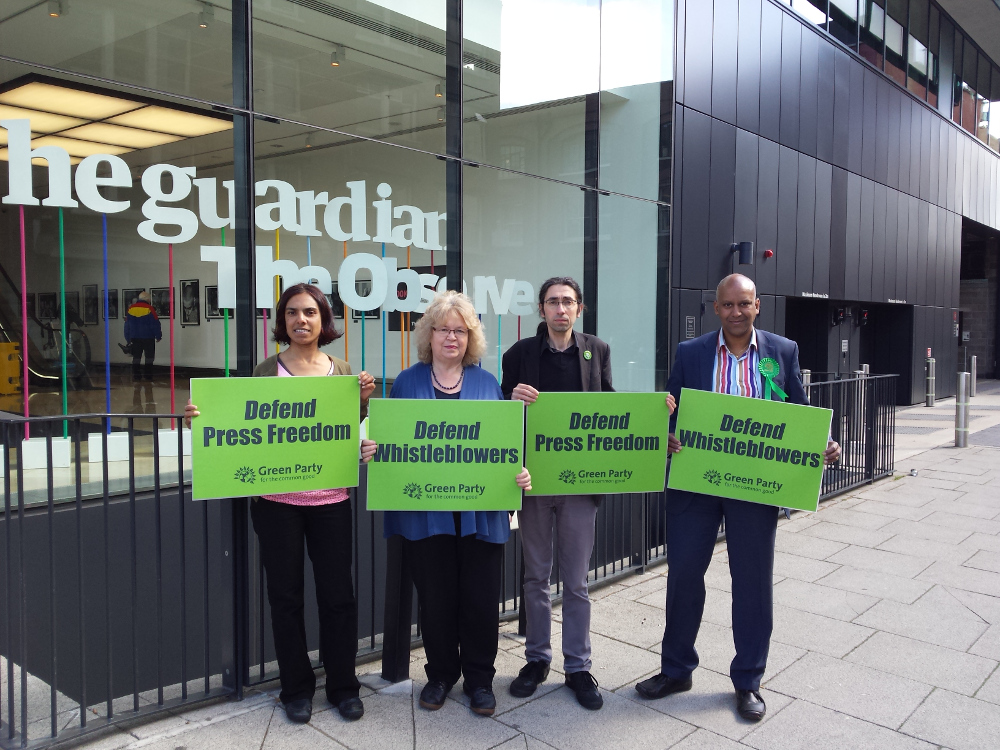 LONDON'S Green Euro-MP Jean Lambert has called on the UK to offer US whistle-blower Edward Snowden a home and protection from prosecution ahead of World Press Freedom Day, which is marked tomorrow (May 3rd).
She said: "The Government keeps saying we need to defend whistle-blowers – the question is, how brave is it on this issue?
"Edward Snowden, and the journalists on both sides of the Atlantic who reported his revelations, have made a significant personal sacrifice to expose threats to our freedom – and now we should defend theirs.
"As Greens said in the European Parliament: Edward Snowden deserves a prize, not prosecution."
The UN has observed that journalists and whistle-blowers often report on the very corruption which harms development and poverty-reduction most. What example do we set if we don't protect those who blow the whistle on our own Government?
Ms Lambert made her comments ahead of World Press Freedom Day, which this year celebrates the role of a free press in development – and laments the fact that at least 600 journalists have been killed worldwide in the last decade alone.
"Only when journalists are at liberty to monitor, investigate and criticize policies and actions can good governance exist," Ms Lambert added.
Ms Lambert, who will mark Word Press Freedom Day by taking action to raise awareness of the issue outside the London offices of the UK's Guardian newspaper, said:"We need a responsible, free press, independent of government interference and persecution, to help deliver a fairer, more free and more sustainable world.
More information on UN World Press Freedom Day
Background
Edward Snowden, currently living in exile in Russia, is wanted for espionage after blowing the whistle on the US authorities' mass surveillance of emails and 'phone calls.
Mr Snowden alerted journalists and EU authorities to the wholesale collection of non-US citizens' internet usage data, and the tapping of politicians' 'phones in 2012 while employed by the US military.
The revelations sparked an inquiry into US activities at the European Parliament – and the arrest of a number of journalists and even their associates, both here and in the US. Mr Snowden was charged with espionage – and promptly fled the US.
Last year Greens in the European Parliament nominated Mr Snowden for the prestigious Sakharov Prize for Human Rights – and called for the EU to offer him protection from prosecution.
Though this was rejected by a majority of Euro-MPs, Green MEP Jean Lambert now says the UK should offer Mr Snowden a safe home to mark its commitment to press freedom, ahead of an international celebration of the role a free press can play in development and poverty-reduction.