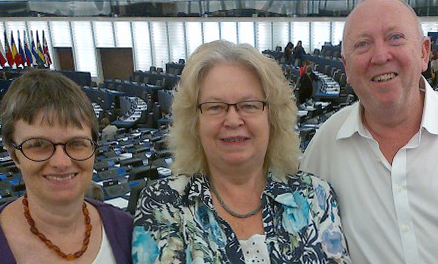 07/09/2014
The UK Green MEPs – Jean Lambert, Keith Taylor and Molly Scott Cato – proposed the following motion to the Green Party of England and Wales' Autumn 2014 conference in Birmingham. It is adopted with overwhelming support.
Stop TTIP
The proposed EU-US trade deal, the Transatlantic Trade and Investment Partnership, will be a disaster for the UK and for the EU. Green MEPs have been at the forefront of campaigns to stop TTIP and have voted against it. There has also been opposition from US Greens.
TTIP negotiations are being conducted with barely any public or democratic input or oversight. Although other trade deals have been negotiated beyond the reach of public scrutiny, the scale of TTIP makes its impact much greater and the need for public, democratic oversight even more urgent.
Big business has had excessive influence over the negotiations. In the preparatory phase, of the 590 meetings which took place between the EU Commission and lobby representatives, 92% were with representatives of private companies.
TTIP will undermine the rule of law by establishing a parallel justice system if it includes the proposed Investor-State Dispute Settlement mechanism (ISDS). ISDS gives powers to private arbitration panels to require compensation to private companies deemed to have suffered losses as a result of EU or national laws, with no recourse to appeal. ISDS will have a chilling effect on public policy, undermines democracy, and strengthens the power of private corporations.
The TTIP deal would lead to 'harmonising' of EU and US laws. This could lead to high standards in the EU or USA being lowered. This could have serious impacts on workers' rights, environment, animal protection and food safety standards, digital rights and financial regulation.
TTIP will make liberalisation and privatisation 'one way streets'. Returning public utilities, hospitals or waste collection to the public sector once privatised will be much more difficult or even impossible under TTIP. This represents a real threat to the NHS and other public services.
Conference calls on the Green Party Executive, Greens elected to public office, and Green Party candidates and members to:
– Support and sign the 'Stop TTIP' European Citizens' Initiative, which is launching in September, and which will require the EU Commission to take action if it receives one million EU signatures.[*]
– Support and publicise the European Day of Action against TTIP on Saturday 11 October.
– Call for MEPs and MPs from all parties to oppose TTIP
– Advocate a fair and sustainable EU trade policy, based on the Alternative Trade Mandate coalition proposals.
[*] See http://stop-ttip.org
Motion adopted on Sunday 07 September 2014.
ENDS