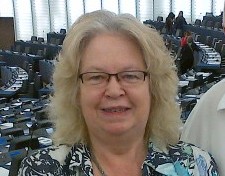 17/12/2014
This is a letter signed by all three of the UK's Green MEPs and submitted to The Guardian for publication. It wasn't published, but here is the text:
To the Editor:
As the UK's three Green MEPs, we will be voting in favour of recognising Palestine in a vote scheduled today (Wednesday, December 17) in the European Parliament.
For too long, Palestine has received mixed messages from Europe. The EU remains the single largest donor of foreign aid to Palestinians, yet it fails to take any meaningful action to stop Israel from breaching international law and human rights.
For 47 years Palestinians have been locked into an occupation which has denied them the right to self-determination – a situation all too reminiscent of South African apartheid and which has resulted in so much bloodshed.
Israeli oppression continues apace as the Government embarks on what has been described as the "biggest appropriation of Palestinian land in 30 years". We believe a vote in favour of recognising Palestine will represent a vital step on the long road towards full Palestinian statehood and a viable two-state solution necessary for the eventual peace of the region.
Keith Taylor, Green MEP for South East England
Jean Lambert, Green MEP for London
Molly Scott Cato, Green MEP for South West England