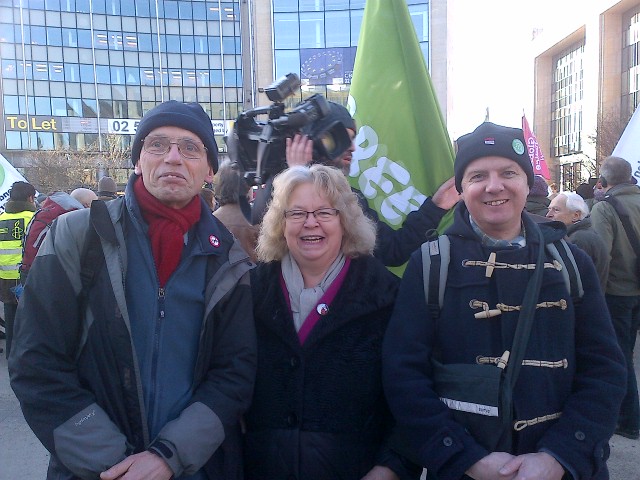 04/04/2015
As the next round of negotiations on the controversial Transatlantic Trade and Investment Partnership (TTIP) trade deal begin in Brussels, a delegation of over 100 campaigners are making the cross-channel trip to attend an anti-TTIP demonstration and meet England's three Green MEPs. The delegation is made up of people from all parts of the UK, representing a variety of concerns about the potential impacts of the trade deal.
Angela Stoddard, making the trip from Walthamstow in London, said:
'I'm here to ask my MEP why the public has not been informed and consulted on TTIP when it will have such far-reaching consequences. TTIP could end up giving the private sector far greater influence on the NHS, and it could also end up lowering protection on food standards in the EU.'
The three MEPs, Jean Lambert, Molly Scott Cato and Keith Taylor, who will meet the group issued a statement of support for the delegation:
'We are delighted to welcome this delegation to Brussels. Greens have been at the forefront of the campaign against TTIP in the European Parliament because the deal will bring us a step closer to corporations writing laws instead of Governments. The depth of opposition is shown very clearly by the more than one million European citizens who have signed a petition against the deal'.
The visit, including travel, is being coordinated by Global Justice Now, a campaigning organisation that is part of a Europe-wide coalition of NGOs, trade unions and activist groups who are opposing the trade deal. The European Commission recently published the results of a public consultation on TTIP, which revealed that 97% oppose the inclusion of Investor-state Dispute System (ISDS) within TTIP – a clear indication of the depth of opposition. It is the ISDS mechanism that is perceived by many as the real challenge to democracy, potentially granting corporations the right to sue governments over laws that affect their profits.