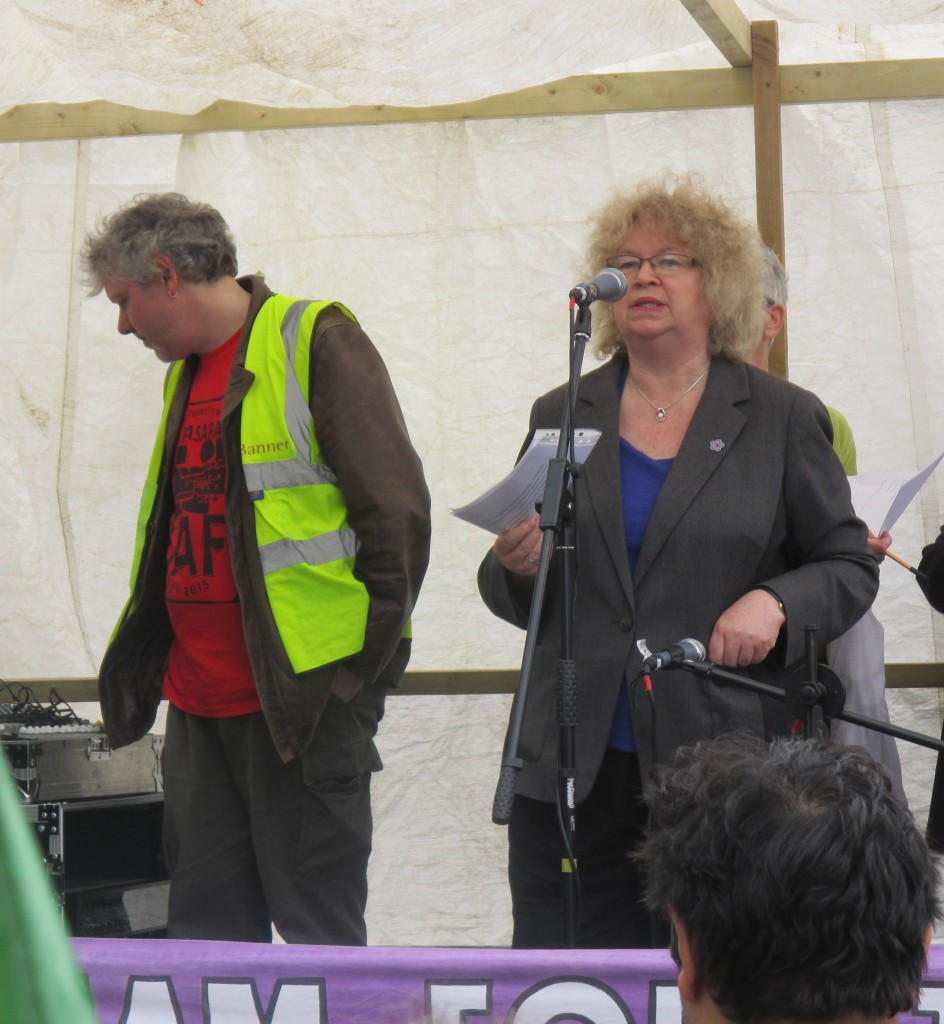 The English Defence League (EDL) marched through Walthamstow on the weekend, to very substantial opposition as many protesters turned out to face them. Outside the Town Hall, E17 resident Jean Lambert passionately made the case to support, not vilify, immigrants within the borough.
Here is the text of the speech delivered at the Unite Against Fascism (UAF) demonstration in Walthamstow on Saturday, the 9th of May, 2015:
I am very proud to be here today, standing up against the EDL and all those who seek to divide our community and society. I have lived and worked in Walthamstow for many years, many of those as a teacher before I was elected.
Over the years, we all know we have had our problems with racists, fascists and those who simply cannot or will not accept that we have a diverse society of which we should proud. We are told that the EDL wanted to commemorate the murder of Lee Rigby in Woolwich but were refused permission so, for some reason, came here instead. It is right that we should commemorate that horrific death– people should be able to walk the streets in safety, wherever they are. But, as we're in Walthamstow, we should also remember why we have Yunus Khan Close off Queens Road – it is an ongoing reminder of that history of our struggle against racism – and commemorates a racist arson attack in which Yunus Khan's family was brutally murdered.
Violent extremism crosses cultures and beliefs – it is not inherent in any of them as some would want us to believe. The people who bear the responsibility are those individuals who have committed those crimes – not the communities from which they come and they should never be blamed for the actions of others.
Here, the community came together after that attack – as we are doing now. Our community wanted to stand up for our common humanity, the right of all to live in peace together, free from fear and the threat of attack. Just as we are doing now. We want people to be free to be who they are: regardless of their faith or none, their descent, gender, sexual identity, age, disability or wherever they are from in this world. That freedom is protected under a framework of human rights that apply to each and every one of us. This election result sees that framework of rights under threat.
This Government is threatening to step back from the European Convention on Human Rights (ECHR). The Convention is not from the EU, it predates the EU: it is part of the outcome of the Second World War, the defeat of fascism and the desire to build a better world and to create peace in Europe.
This Government is threatening to leave the ECHR and simply have our own Bill of Rights instead.
This is a very worrying signal that we are leaving the universal standards that apply to all of us and that the British are somehow different. This move would make our rights subject to the opinion of changing governments
We, who believe in that wider framework of human rights, that protects us all on an equal basis, should oppose any move to reject the ECHR.
We need that common framework, that works across borders, not least as we see the rise of organised Islamaphobia and other forms of hate-politics across Europe. Only this week, we have seen arrests in Germany of people charged with planning violent attacks on Mosques. I have not seen that reported in our national press, which looks at the threat of terrorism coming from only one point to reinforce its own perspective on Islam.
We need to oppose those who would spread hatred and division – who are not interested in universal rights but their own supremacy. We need to stand together for our common future.
-ends-