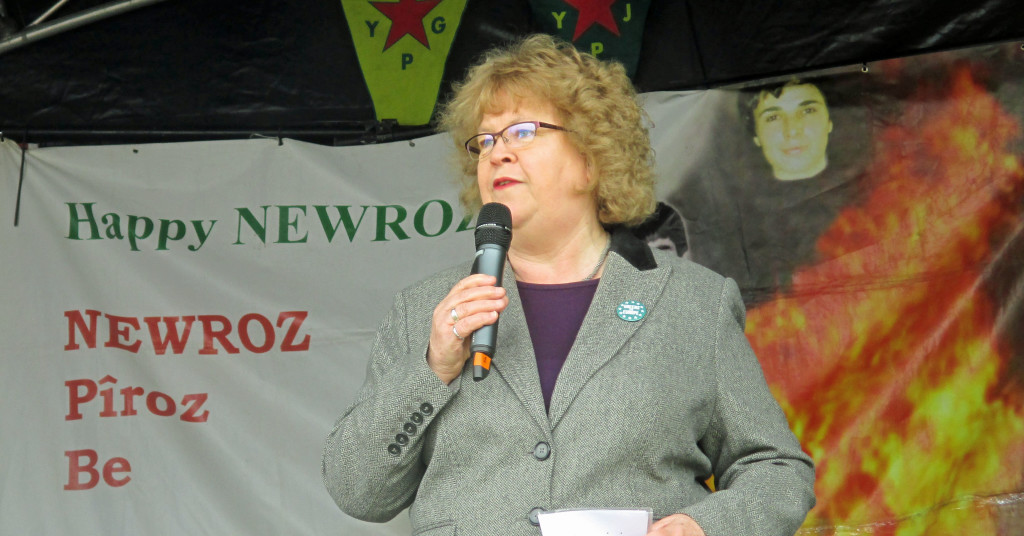 10.4.2106
Jean addressed the London Newroz celebrations. Newroz is a traditional festival of light and hope and celebrates the coming spring unfolding after the long winter and symbolises the victory over dark oppressive forces.
This year's festival took place in the shadow of the brutal conflict in Turkey and the on going conflict in Syria and Iraq. The struggle for light and hope continues and the need to mark this festival remains as strong as ever.
Jean said: "Thank you for the opportunity to be here and Happy Newroz – at least in your personal lives – politically this is more difficult.
"When we look at situation of Kurdish people in Turkey we can be very happy with the results of the first General Election – Greens in Turkey worked with HDP as a democratic political force committed to equality, diversity, ecology and peace.
"I'm outraged to see what happened after the first election result: attacks on supporters and activists. Everything is being tried to reduce the power and support of HDP.
"In the second General Election, despite that oppression, we once again saw HDP beat the 10% threshold.
"All of us who desire peace and democracy condemn violence against civilians and the use of civilians as human shields: we, want a political solution that brings justice for the Kurdish people and a genuine peace for all in Turkey.
"This cannot happen under state oppression, curfews, media censorship and ongoing human rights abuses. We cannot turn away from that for a shameful deal that aims to stop people fleeing the danger to their lives in Syria and Iraq. Have to ask – if you are a Kurd fleeing Da'esh or Assad in Syria – would you feel safe in Turkey? Answer today must be NO. Turkey is not a safe country.
"Many of us in the European Parliament, across progressive political groups, are clear on this. We want an end to violence and a return to the table for peace negotiations. To help that process, many of us want to seek the PKK removed from the EU list of terrorist organisations but – let me be clear – that is not an argument that is helped by attacks aimed against civilians.
"But we must also be clear that the enemy of democracy, diversity and peace is Da'esh, not the Kurdish people. Kurds should be at the negotiating table for Syria – Kurds are part of the solution and the peace and stability that is needed in the region.
"You are also needed in here: you are part of the political life of London and of Europe. Your vote will count on May 5th in the election for London's Mayor and Assembly. (I obviously hope you support the Greens but democracy is about your freedom to choose).
"The referendum on UK membership of the European Union on Thursday June 23rd is extremely important. I believe it's vitally important that your voice is heard in the EU on all these important issues. To be heard, we have to be at the table – we have to be in the EU. So, please vote on June 23rd and vote to remain IN."
Jean is a patron of the solidarity campaign, Peace In Kurdistan – www.peaceinkurdistncampaign.com.
The event at Lee Valley was organised by Kurdish People Assembly in UK, Kurdish Community Centre, Kurdsih and Turkish Community Centre (Halkevi), Roj Women, KNK, Ciwanen Azad.