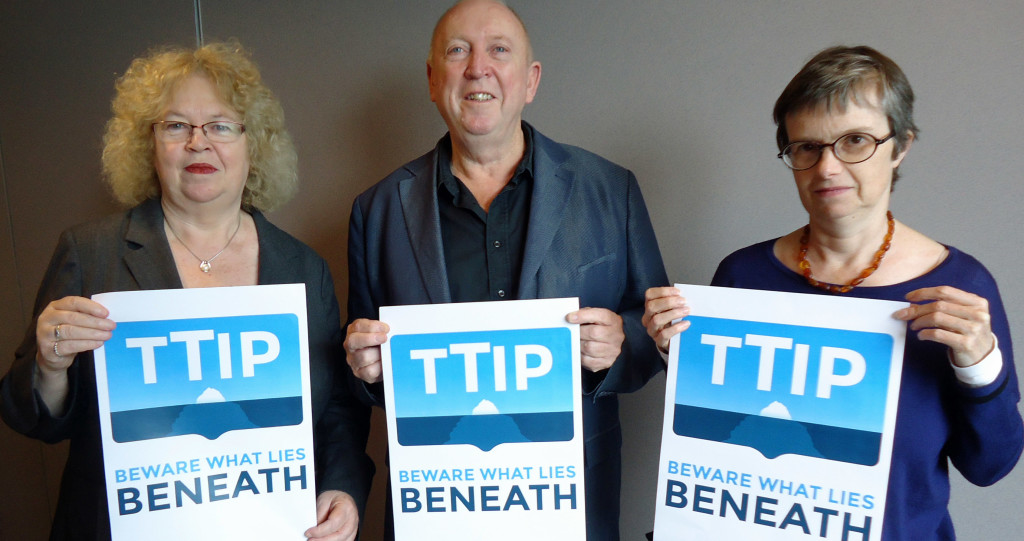 April 20, 2016
Green MEPs are using the visit of President Obama to the UK to highlight the threats posed to Small and Medium Sized Enterprises (SMEs) from TTIP, the planned EU-US trade deal. US President, Barak Obama, and Prime Minister, David Cameron, are due to discuss the controversial trade deal this weekend.
Green MEPs have long opposed TTIP, describing it as a 'corporate charter', and have been at the forefront of opposition in the European Parliament. They are echoing the demand of campaign group Business Against TTIP that the UK government and the European Commission stop the TTIP negotiations, and ensure instead that trade is regulated to the highest standards for people and the environment.
There are approximately 20 million SMEs across the EU, providing 67% of all jobs and contributing around €473 billion a year to the UK economy alone. Around five million of these SMEs in the UK are micro businesses, each employing less than nine employees but making up 96% of all businesses and 29% of the workforce. The highest density of SMEs are in London, closely followed by the South East and South West.
The UK's Green MEPs from these three regions believe TTIP would enable some of the world's biggest corporations to undermine EU social and environmental standards and grant them unprecedented powers to sue the UK government over new laws which affect their profits. Jean Lambert, Green MEP for London, said: ​"Small businesses are vital to Europe's economy and society. In the UK SMEs ​account for almost half the ​country's entire turnover and provide jobs for over 12 million people – more than 2 million of them in London. For the sake of our small businesses we need to stop TTIP and stop deregulating in the interests of transnational corporations. We need strong EU rules on public health, workers' rights and the environment, and high quality regionally distinct goods and services, not a race to the bottom with the US."
Molly Scott Cato, Green MEP for the South West, added: "In my own constituency of the South West, SMEs and micro businesses are demonstrating innovation and dynamism particularly in areas such as renewable energy technologies and food and farming. These initiatives boost the economy, generate employment and help keep money circulating locally. SMEs are also more likely to pay their taxes, while many giant corporations seem to do all they can to dodge paying their fair share. TTIP threatens a corporate free-for-all, creating unfair competition with SMEs and threatening jobs. The Commission's own study predicts at least 680,000 job losses as a direct result of TTIP."  
Keith Taylor, Green MEP for the South East, highlighted the lack of involvement of SMEs in TTIP negotiations:  "It is quite clear that TTIP is aimed at entrenching the dominance of corporations. SMEs have been totally squeezed out of the negotiations. Of 130 meetings with stakeholders, at least 119 were with large corporations and their lobby groups. This means that more than 93% of the meetings, so far, have been with big business. It's little wonder that SMEs across the UK, let alone those in the South East, are worried; large corporations are effectively co-writing the TTIP agenda."
However, the Green MEPs firmly reject the argument that TTIP is a good reason to vote to leave the EU. Molly Scott Cato said: "The Tories and many Leave campaigners are cheerleaders for deregulation and unfettered free trade, so it is clear the UK government would sign up to alternative trade deals as quickly as possible after Brexit. There is a strong campaign against TTIP across Europe and defeating this dangerous deal is most likely to come from within the EU. Almost three and a half million EU citizens have signed a Citizens Initiative calling for TTIP to be abandoned. There is huge momentum and the contribution from UK campaigners has been vital to the Stop TTIP campaign. Brexit would weaken the campaign and cast us adrift facing the prospect of even worse trade deals."
The Green MEPs are calling on President Obama to use his visit to the UK not only to back the Remain campaign but also the millions of campaigners opposed to TTIP. Jean Lambert concluded: ​"​Obama can leave a lasting legacy in his final months in office by stopping this ​toxic trade deal. ​Ending the TTIP talks would show Obama is on the side of ordinary people, workers and small businesses in Europe, not only big business."