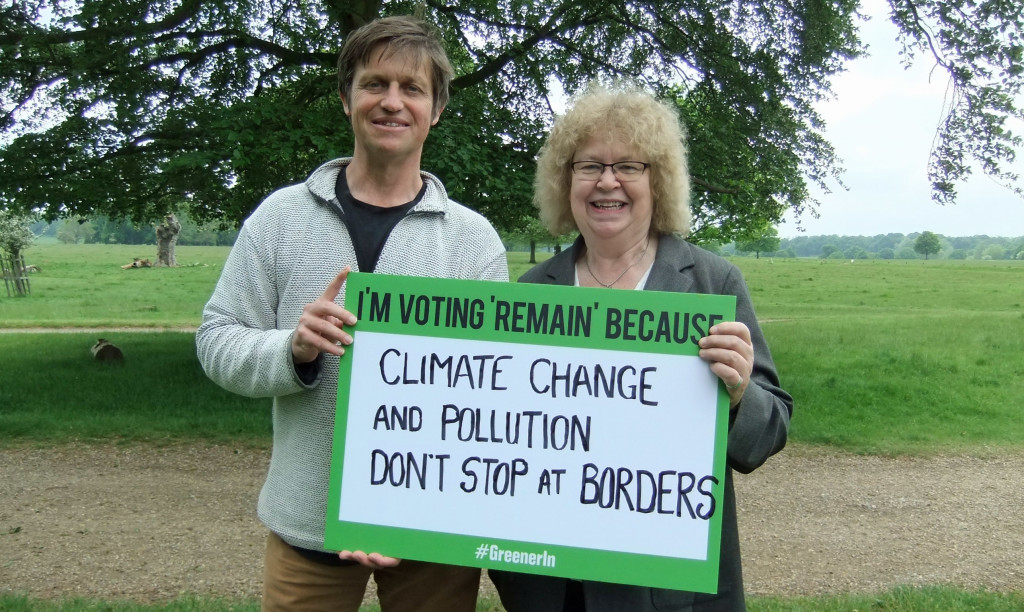 23rd May 2016
* 5 sites in London have extra protection under EU laws
* With one month to go until EU referendum UK is GreenerIn

Many green spaces Londoners know and love are better protected thanks to EU nature laws, and with one month to go to the referendum on EU membership (23 June) Jean Lambert MEP is today putting London's nature at the centre of the campaign to Remain in the European Union.
Five places in London are recognised by the EU as special areas of conservation – Wimbledon Common, Richmond Park, Lee Valley, Epping Forest and Kempton Nature Reserve. [1]
These natural areas in London are protected as part of a Europe-wide network of rare habitats and species. Epping Forest has rare beech trees, whilst Wimbledon Common has protected wet and dry heathlands. Endangered birds such as bitterns, gadwalls and shovelers visit Kempton Nature Reserve and Lee Valley. Creatures like stag beetles and great crested newts thrive in Richmond Park and Lee Valley. [1]
Jean Lambert MEP is raising awareness of the benefits of EU nature protection as well as EU standards on air pollution, water quality and the environment.
Jean Lambert, Green MEP for London, said: "Most people don't realise that iconic green spaces in London have special status under EU law – this gives them an important extra level of protection against development.
"Our city is home to rare species of birds, trees and bugs. It is incredibly important to protect endangered species at the international level – animals and habitats we take for granted locally are often rare in Europe – and the European Union is absolutely the best place to work together with our neighbours to do this.
"The EU status is an important additional safeguard to help make sure these places stay as nature intended, and we can all continue to enjoy them.
"For our local environment, and also for challenges like air pollution and climate change which do not respect national borders, we are Greener In the European Union and it is vital we vote to Remain on 23rd June."
There are a total of 270 sites in the UK which are part of the Europe-wide 'Natura 2000' network of protected areas. Nearly 11,000 square miles of Britain's nature is protected by this status, including well-known places like the New Forest, the North York Moors, Lindisfarne, the Cairngorms and the Severn Estuary.
The 'Greens for a Better Europe' campaign is also drawing attention to the importance of EU action on environmental challenges like air pollution, climate change and cleaning up rivers and oceans. [3] Thanks to EU rules the Thames and other rivers are much cleaner and safer. The EU is taking action against the UK government for failing to tackle air pollution in London. [4]
Last week Jean Lambert MEP visited Wimbledon Common and Richmond Park to speak with local residents and to highlight the importance of EU environment protections.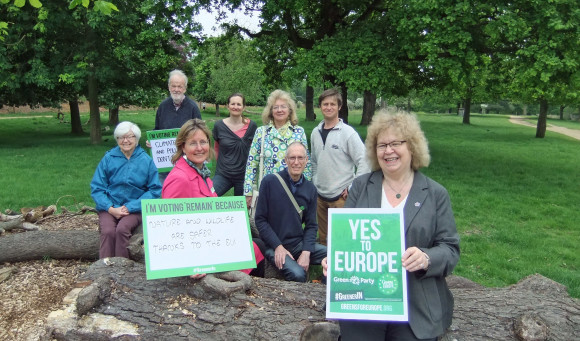 NOTES:
[1] Sites are protected as 'Natura2000' sites under either the EU Habitats Directive, or the EU Birds Directive, or both.
1. Wimbledon Common is a Special Area of Conservation under the EU Habitats Directive because of its wet and dry heaths and because it is an important site for the stag beetle.
2. Richmond Park is a Special Area of Conservation under the EU Habitats Directive because of the stag beetle which is a protected species. It is one of only four known outstanding localities for the stag beetle in the United Kingdom.
3. Lee Valley is a Special Protected Area under the EU Birds Directive for the species bittern, shoveler, and gadwall.
4. Epping Forest is protected under the EU Habitats Directive. There is special mention of its wet heaths, dry heaths and beech forest and the presence of the stag beetle and the great crested newt.
5. Kempton Nature Reserve, also known as Kempton Park East Reservoir is aSpecial Protected Area under the EU Birds Directive for the presence of the species: shoveler and gadwall.
For more information on Natura2000 sites see:  http://natura2000.eea.europa.eu/#