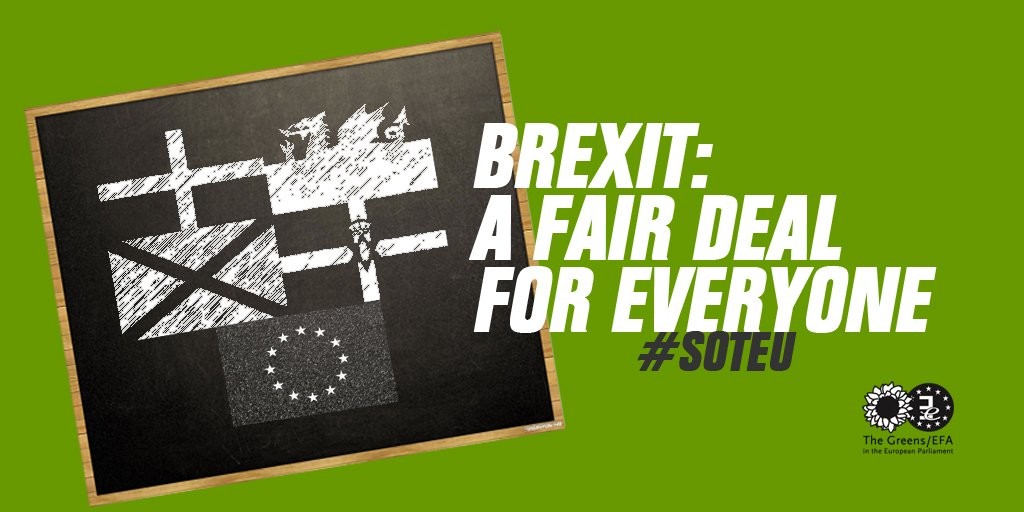 10th October 2016
More than 100 days since the EU referendum, and with the direction the government intends to take in negotiations with the European Union gradually becoming clearer, Jean has written an update for concerned constituents in London.
This is Jean's latest update post the EU referendum.
—
Dear constituent,
You wrote to me with your concerns following the EU Referendum and I'm writing again now with an update on how I see issues arising from the result and the UK Government's plan to take the UK out of the European Union.
It is more than 100 days since the Referendum and the incredibly far-reaching implications are still emerging. I have spent 17 years representing London in the European Parliament, working to strengthen the EU's commitments on social and environmental issues. I therefore have profound concerns about what is happening and will be following developments closely and, where possible, seeking to influence them.
The Green Party and I continue to believe the UK's interests are best met by being a member of the EU, and that, whilst far from perfect, the European Union continues to be vitally important for cross-border co-operation on common challenges, bringing peace, social, economic and environmental progress, and effective regulation.
We recognise the outcome of the Referendum result – but we also recognise the use of misinformation, downright lies and shameful scapegoating of migrants which provided a false but powerful narrative to account for the problems many people in Britain face today. These problems – political and economic marginalisation of whole communities, austerity, housing shortages, underfunding of public services, chronic wage stagnation and gross inequality – must be addressed, but they will not be solved by leaving the EU.
It remains the case that leaving the EU will be bad for Britain – in terms of the economy, environmental and social standards, workers' protections, and in terms of the benefits of free movement and our place in the world. My Green Party colleagues and I will continue to raise these fundamental issues.
Events now appear to be moving in a direction which raises further and greater concerns. As you will know, Theresa May has announced that formal notification to leave the EU, triggering Article 50, will happen by the end of March 2017. Her Government seems set on forging ahead with a 'hard Brexit', which would exclude the UK from membership of the single market and everything that goes with it.
The Institute for Fiscal Studies has calculated that single market membership is worth 4% of UK GDP compared to the WTO regime. The Trades Union Congress is also calling on the UK to remain a member of the single market because it is connected to 280,000 UK jobs in manufacturing/production. The TUC argues that the single market is even more important for UK manufacturing/production jobs than for financial services. The value of single market membership is also about ensuring UK industry meets EU production standards. These include environmental and safety standards which also protect consumers.
Theresa May has also ruled out Parliament's involvement in triggering Article 50 and the involvement of Northern Ireland, Scotland, Wales and the Houses of Parliament in the exit negotiations. She has also ruled out any second Referendum on the terms of the exit and any early general election. Greens are working constructively with others to oppose these pronouncements and stop what was a narrow referendum result turning into a national catastrophe delivered by edict.
May has also announced that there will be a Great Repeal Bill which will end the supremacy of EU law but enshrine current EU legislation into British law. This will make valuable EU legislation in a huge range of areas extremely vulnerable to being amended or axed at any time in the future. It is also of grave concern that these changes may well be made by Executive order alone and not by Parliament. As a minimum we must have full Parliamentary involvement.
During the Referendum campaign, Greens and many others rightly argued for the value of EU legislation and the importance of keeping it. We continue to make that case, but it isn't just about EU legislation as it currently exists. The EU Member States, as represented in Council, the European Parliament and the Commission will all continue to develop new legislation in a wide range of areas – such as environmental and social standards, consumer protection, rights at work, anti-discrimination, animal welfare, product standards and intellectual property. It is vital that the UK keeps abreast of these developments, and that our law keeps pace with these changes. Failure to do so will mean the UK constantly playing catch-up, reinventing the wheel for itself. Whilst this may be what many Leave campaigners want, this is not the way to strengthen the UK's economic resilience or our standing in the world. I will therefore continue to argue for the value of keeping pace with EU developments in many crucial areas.
Constitutional issues, Northern Ireland
A cross-party legal case has been brought by a number of Northern Ireland's political parties, including the Greens. A case is being heard that via the Good Friday Agreement sovereignty over Northern Ireland's constitutional powers has been ceded by the UK Government. This means a veto power over Brexit could reside with Northern Ireland, who voted to remain in the EU.
A big issue is whether a hard border would need to be reinstated between the Republic of Ireland and Northern Ireland as this will become an EU border. If the UK leaves the EU customs union (which is what a hard Brexit would imply), there would need to be customs controls and a duties regime along the Republic-NI border. Given the progress we have seen in recent decades, such a border would be a big step in the wrong direction and needs to be avoided. Greens and many other political parties in Northern Ireland believe it is against Northern Ireland's interests and democratic wishes to be taken out of the EU. I will continue to work with Green colleagues in Northern Ireland and the Republic over these concerns.
It should also be noted that there are implications for Wales, if a customs border is to be introduced, as many goods are exported via Welsh ports.
Like Northern Ireland, London also voted to remain in the EU. I have highlighted the many ways London benefits from EU membership – including funding for youth unemployment, for London's universities and for our students to study in Europe, clean air standards, protection of our rights, and the value to London's economy (650,000 London jobs linked to EU exports). I will continue to argue London's case, working with other MEPs and City Hall.
Freedom of movement, EU nationals and UK nationals in the EU
Greens continue to believe in and advocate for the benefits of freedom of movement. These are valuable rights and freedoms for UK nationals too. I recently met with a group representing UK nationals living in the EU to hear about their concerns and will be pressing for their interests to be fully taken into account. Similarly, the millions of EU nationals living in London and elsewhere in the UK must not be discriminated against or used as nothing more than bargaining chips in the negotiations. EU nationals in Britain have brought so much to this country and to treat them in this way is shameful and must be challenged.
Like many people, I've been shocked by the recent spate of violent, in some cases fatal, racist attacks against Poles and others. Last month, I wrote to the Polish Ambassador expressing my deepest regret and restating my support to the Polish community here.
These incidents cannot be separated from the climate of casual abuse and scapegoating which has been stoked by some politicians and loud media voices. They bear a share of responsibility and need to be called to account.
The UK MEPs – including the three Green MEPs – remain full members of the European Parliament until negotiations are concluded and the UK formally leaves the UK. My Green colleagues Molly Scott Cato and Keith Taylor and I can assure you we remain totally committed to representing our constituents and working for a better, fairer Europe and the best deal for Britain.
Please let me know if you have particular concerns in any of the areas I've mentioned above.
Kind regards,
Jean Lambert MEP
Green Party Member of the European Parliament for London