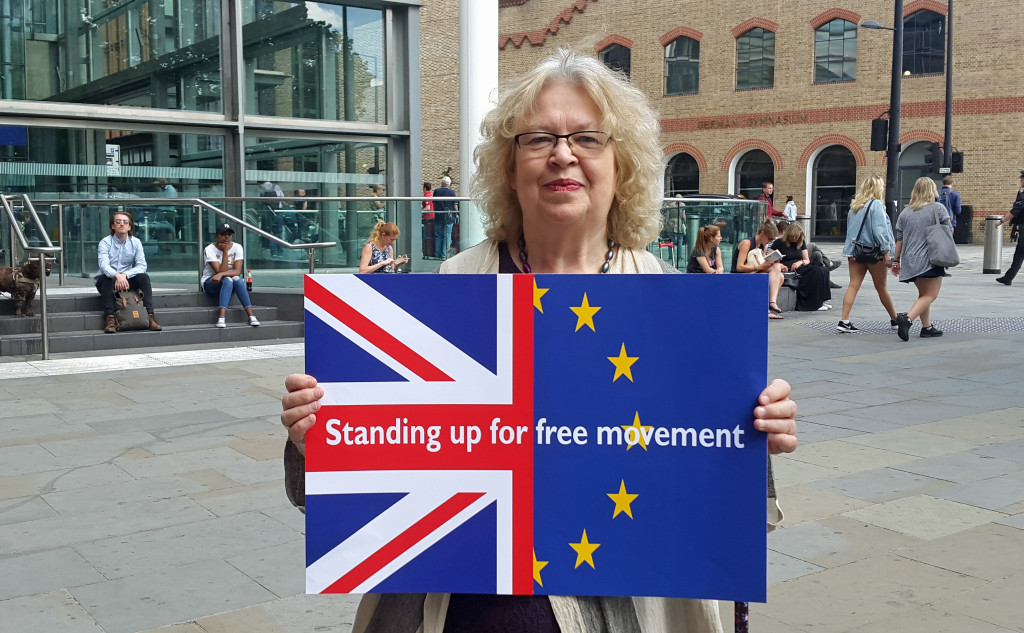 23 August 2017
On 26 June, Theresa May finally unveiled her proposals to protect the rights of EU nationals in the UK and British nationals in the EU27 post-Brexit.
This comes a full year after the EU referendum vote, during which time EU nationals in the UK have lived in uncertainty and remained in the dark as to whether the lives they've built here will be assured. We have heard numerous cases of people being told they would now have to 'go home', and of children in playgrounds being bullied for their origins. There has also been a rise in hate crime affecting many communities, whatever their background or migration status.
It does not have to be this way. While the Leave campaign in the EU referendum set the tone, the subsequent reluctance of the UK government to immediately guarantee the rights of EU nationals after the EU referendum has been a failure of government.
After 12 months, one would hope that the government would have made a fair and comprehensive offer. However, the 15-page document, which outlines the UK's proposals, does not deliver. It crucially fails to reciprocate the EU's genuinely generous offer on citizens' rights, which calls for Britons in Europe to continue to hold all current rights guaranteed to them by EU citizenship for the rest of their lives.
This is significant. If the UK government is unwilling to offer the same rights to EU citizens in the UK as the EU would like to offer Britons in the EU27, then it is likely the EU will need to water down its own offer. In response, the organisation British in Europe has warned that UK nationals in the EU27 'run the risk of being the sacrificial lambs of Brexit'.
If the UK government's proposal was adopted in its current form, every single EU national in the UK would be required to apply for 'settled status' through the government's proposed scheme, even when they already have long-term residency. Depending on their current position, some will be forced to apply multiple times. For the individuals involved, it'll be a demoralising experience resulting in fewer rights than they started out with. For the Home Office, processing the potential 3.2 million applications will be a bureaucratic nightmare.
The offer also fails to resolve a number of issues cited as deal- breakers by the EU in its proposal. The government's threat to set a cut-off date for citizens to qualify for 'settled status', which might be before the UK has formally left the EU, is particularly worrying and legally questionable. It has rebuffed the EU's requirement for its nationals to have recourse to the European Court of Justice post-Brexit. And it is still refusing to ring-fence this issue – a gesture that would show some willingness to guarantee citizens' rights.
Mrs May's proposal is at least a step forward and something to build on. However, it has taken so long to reach this point that many EU citizens don't trust this government to treat them fairly. In practice, that means EU nationals will continue to leave Britain. Given the government's obsession with migration numbers, it is not clear what strategy they have to replace essential workers. We already know that since last year there has been a 96 per cent drop in applications from nurses from EU countries, adding to the massive shortage already facing the NHS. Meanwhile, more than 1,300 academics from the EU have left British universities over the past year, prompting concerns of a Brexit 'brain drain'.
For my part, I will continue to fight in the European Parliament to protect citizens' inalienable rights. And, as I've said before, if MEPs feel that the rights of EU nationals in the UK and British nationals overseas are not fully protected, we will not vote in favour of the final Brexit agreement – a fact Mrs May and her team would do well to remember.
On the anniversary of the referendum to leave the EU, Jean launched her new Free Movement Hub providing advice and resources for citizens who are concerned about their right to free movement, and updates on her work to ensure this is protected. Find out more at: http://www.jeanlambertmep.org.uk/eu-and-brexit/brexit/free-movement-hub/
This article was originally published in Green World magazine: read it here.