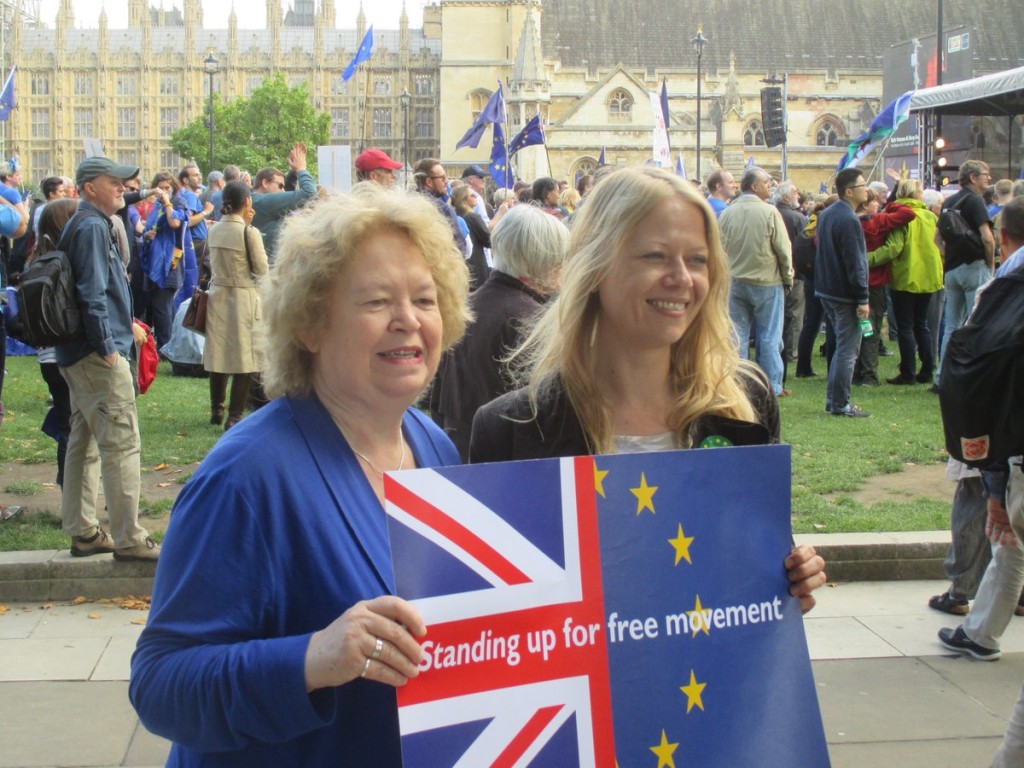 9 September 2017
An estimated 50,000 people turned out to demonstrate against Brexit today, marching through central London to converge at a rally in Parliament Square. The People's March for Europe featured speakers including cross-party MPs and MEPs, campaigners, activists and artists – all rallying behind the message of "unite, rethink and reject Brexit".
Jean Lambert, London's Green MEP, told the crowd: "We know that at the end of this process I, as a Member of the European Parliament, will have a meaningful vote on the deal. I want a similar meaningful vote for people in Westminster – not a gift from the Government, but a right. And I and my party also want a vote for the people of this country. Because even basic consumer protection says you have a cooling off period, and a time to consider whether what you're being offered fits your needs and your ambitions. So a vote for the people, not just the politicians."
Read more about Jean's contribution in the Evening Standard, the Irish Times, Sky News and the Huffington Post. The full text can be found below.
Jean's speech to the People's March for Europe:
"I want to start by emphasising that the Green Party wants to remain in the European Union. That's because we live in an increasingly interconnected world. At the moment we're seeing the havoc being wrought internationally by climate change, pressures around the environment, issues around equality, social justice and fair trade. We need to be working with parties and countries internationally to change things. We find it incredible that we are willing to give up our seat at the table to try and keep a European Union that has strong values at its heart, however appalling it can be at times at delivering on them. Why on earth do we want to give that up when the world has never needed cooperation more?
The EU is more than a trading bloc. If you look at what we're saying are the priorities for the Parliament at the moment, we are clear that we're looking at citizens' rights, we're looking at not undermining the peace agreement on the island of Ireland, we're not looking to remove all of those underlying standards that we have, that this is something we want to champion and remain part of.
And when we're talking about the EU budget which people are doing – well, in theory – a lot of at the moment, it's not a simple banking transaction where you put your money in, take your money back and hope – with any luck – there's a little bit of interest. It's a pooling of resources. The EU budget is to pool money to achieve more together than we can do individually, and it's a solidarity mechanism. We need to remember that when we're talking about what we have from the European Union.
There's a huge amount on the table at the moment for the UK and the European Union. During the referendum, the Leave camp was very keen to criticise the EU on its centralised decision making. All of that power in President Junker. All of that power in the Commission. I remember screaming at the television, as I'm sure many of you did, about various Leave supporting ministers totally misrepresenting the decision making process of the European Union. Ignoring the fact that our Government is involved in pretty well every single decision that comes out of there. And as directly elected members of the European Parliament we have a hand in that as well. We are involved in the negotiating.
So I would expect that taking back control is going to mean better governance in the UK. Isn't that what it's for? A strong role for MPs and civil society? But in reality we are exposing constitutional weaknesses in the UK in a way they've never been exposed before. We have a democratic deficit here in the UK and we need a modern, written constitution that sorts that out.
If you look at the role of the UK Parliament, you find a body based on a disproportional electoral system, where negotiation is viewed as a weakness and party interest seems to come before good decision making. It took a court case to make the Government realise that Parliament should have a vote on Article 50. No wonder the Government doesn't like the courts.
If we look at the EU Withdrawal Bill, this massive piece of legislation, look at the restricted time that's been set aside to look at that. Look at where the power is being invested. Not in the Parliament, not in the devolved administrations. It's being invested in individual ministers and in the power of the executive. And then they have the nerve to criticise Brussels because they think the Commission is too powerful. You know? For heaven's sake. We have a Parliament there, we have a Council, that balances the power. Where is your balance here?
So we've got to work with this Withdrawal Bill to make sure that it safeguards workers' rights, human rights, environmental protection at least, and that the Government is forced to make that clear in the legislation. And our Government has also got to make it clear that it wants to bring this country together – not divide it further. So it has to stand up to the increases in racism, xenophobia and other hate crime that we're seeing grow exponentially since the Brexit vote. That vote was not a license to hate.
Government ministers could start by making a serious and positive offer to the nationals of the 27 other EU countries here. A serious offer, not the farce they put in front of us at the moment. Assuring the rights of EU nationals cross-border affected by Brexit is a red line for the European Parliament. Our Government could also note that the laws concerning EU nationals have not changed since the referendum. They are still on the statute books. Discrimination is illegal. People should not be being sent notices telling them to leave, being refused mortgages and other services. It could, if it really wanted to be ambitious and stand up for rights, improve the rights of those from non EU countries – leveling up policy instead of leveling it down. Removing, for example, the toxic minimum earnings requirement that divides families of so many nationalities.
It could also – in the interests of good governance – make the Home Office fit for purpose. But I quote the words of many on this, including John Lennon – you may say I'm a dreamer in wanting to go for that. But there should be a right for good administration so people actually have their rights protected and can access justice. So closing the door to free movement – restricting the possibilities for international students for example, failing to stand up for the rights of your residents, is a negative sign to the world. Not least to the many countries with which the UK hopes to develop successful trade agreements.
I want to come back to this issue of democracy, and what happens at the end of this process of negotiation between the UK and the European Union. Within this process, the EU has been transparent. We know that at the end of this process I, as a Member of the European Parliament, will have a meaningful vote on the deal. I want a similar meaningful vote for people in Westminster – not a gift from the Government, but a right. And I and my party also want a vote for the people of this country. Because even basic consumer protection says you have a cooling off period, and a time to consider whether what you're being offered fits your needs and your ambitions. So a vote for the people, not just the politicians. Thank you."