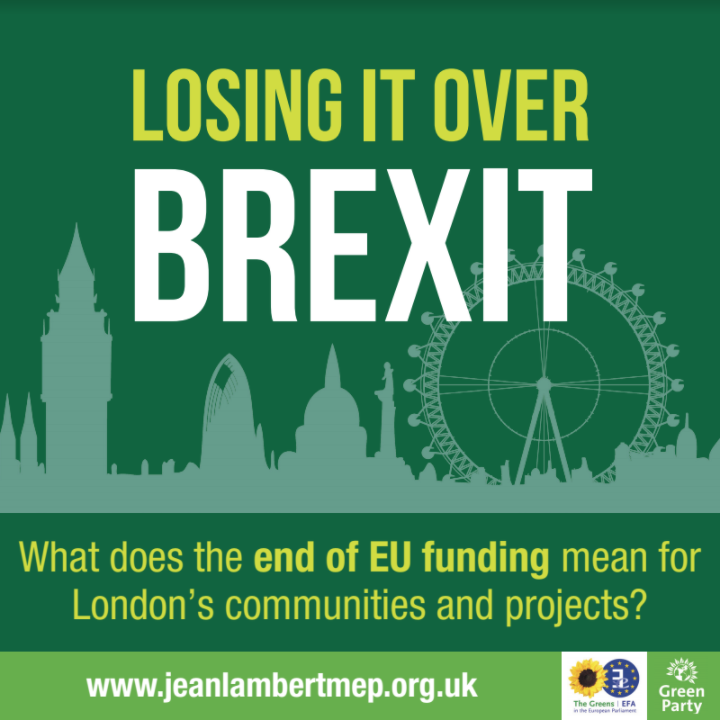 18th December 2017
London's communities and projects will lose approximately £525.7m (€573m) each year in EU funding, according to a new study commissioned by Jean Lambert, London's Green MEP.
The report, "Losing it over Brexit: What does the end of EU funding mean for London's communities and projects?" maps the EU funding currently available to London's communities, and calls on the Government to ensure that this gap is filled post-Brexit.
This total currently comes through a basket of pan-European funds, including [1]:
European Structural and Investment Funds (ESIF) – approx. £116.6m (€107m) annually on job creation and creating a sustainable, healthy environment in London.
Horizon 2020 – approx. £357.5m (€328m) annually research and innovation as a means of driving economic development and creating jobs in London.
Erasmus Plus – approx. £8.7m (€8m) annually into modernising education, lifelong learning and youth work in London, and providing opportunities to study and work across Europe.
Jean finds that blocking access to these funds will have a disproportionate impact on disadvantaged communities, resulting in damaging cuts to projects that help London's young people into work, improve accessibility for individuals with disabilities, and support refugee and migrant communities.
The changes are also likely to impact the creative sector, small businesses, technological research and innovation, and green projects focusing on vital issues such as food waste, recycling and energy efficiency [2].
It's alarming that the Government is yet to even begin consulting on its Shared Prosperity Fund – the programme intended to replace this EU funding. There have been no formal proposals on how much of this funding will be replaced, how the new fund will be structured, and whether existing projects will benefit.
As a result, Jean is demanding that:
London does not lose out on funding as a result of Brexit
Any funding to replace lost EU funds is decentralised to City Hall
The London Mayor undertakes an integrated impact assessment of the contribution of EU funds to London's communities
An evidence base is established of the impact of EU funding to London
Evaluation of the last EU funding programme is used to draw good practice lessons and inform the new plans
Jean Lambert, London's Green MEP, says:
"In the Government's rush to secure a trade deal with the European Union, it has wilfully chosen to ignore a whole host of vital issues – including some which will make a real, visible difference to peoples' lives in the UK.
We now know that the EU contributes more than £500m towards supporting London's communities – from helping disadvantaged young people into work, to regenerating urban spaces. It would be a terrible mistake for the Government to throw this away. Yet, almost 18 months since the referendum, we're still none the wiser as to how – or if – this vital funding will be replaced.
That's why I'm calling on the Government and the London Mayor to ensure that London's communities don't lose out on funding as a result of Brexit. They must build a robust new funding regime, based on the most effective parts of the EU's existing programme. Meanwhile, any new funds should be decentralised to City Hall which can ensure it reaches the Londoners who need it the most.
There's a great deal at stake here. As high-level Brexit negotiations rumble on, it's crucial that ministers don't lose sight of the massive and successful funding pots at stake. We need concrete guarantees that London's people and communities will not be harmed by their reckless, blinkered approach to Brexit."
Notes:
[1] Breakdown of estimated total:
ESIF: €106,942,857
Horizon 2020: €328,333,333
Erasmus Plus: €7,792,771
MEEF/LEEF/European Investment Bank: €100,000,000
Other: €29,970,586
Total: €573,039,548
Other consists of funding from: EaSI, LIFE, Rights Equality and Citizenship, Health Programme, Europe for Citizens, Interreg NW Europe, Creative Europe Desk.
[2] Examples of EU funded projects currently active in London:
Love London Working
This is a London-wide programme helping 21,000 unemployed people overcome barriers they face to finding work, whether health issues, disabilities or single parenthood. It offers training opportunities and financial support, and assists with job applications, CV training, interview practice and work placements.
https://www.lovelondonworking.com/
Greentech Access to Innovation
This programme helps business start-ups and SMEs develop innovative low carbon products and services. It utilises academic expertise from within London South Bank University and skills from industry partners, teaching new skills to young businesses through workshops and consultancies.
http://reilabs.co.uk/programmes/a2i/​
West London Skills Escalator
Since April 2015, this programme has aimed to support 260 working people on low incomes. It hopes to help them obtain higher paid work, and open up entry-level opportunities for unemployed people who can also begin their journey up the employment ladder.
http://www.wla.london/pages/WLA-435
RISE
This programme helps refugees and asylum seekers in 10 London boroughs to find work, providing English lessons, help with benefits and housing, and mentoring services.
http://www.renaisi.com/rise/