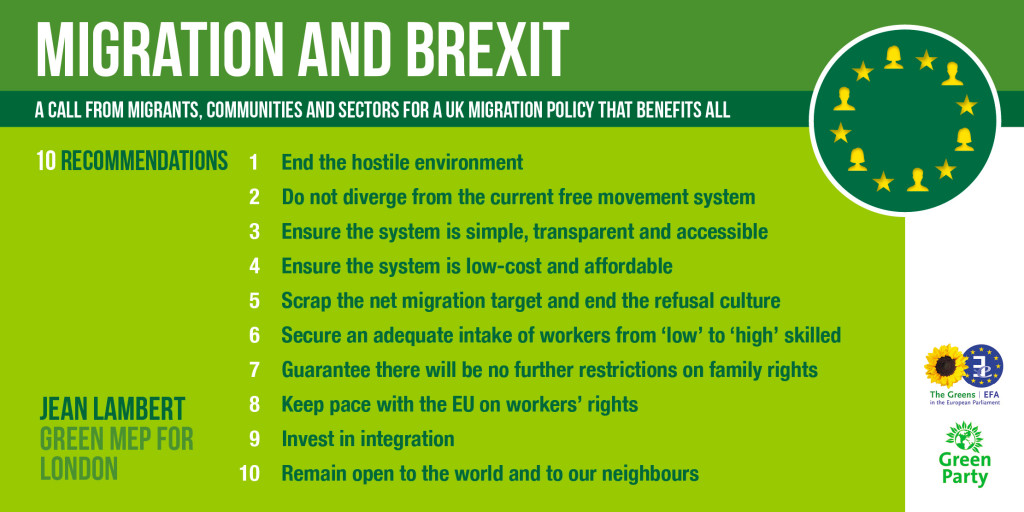 21 September 2018
Jean Lambert, London's Green MEP and the Green Party's migration spokesperson, today launches a major new publication: Migration and Brexit: A call from migrants, communities and sectors for a UK migration policy that benefits all.
It contains a collection of essays from legal and rights-based groups (including Migrants' Rights Network, British Future and the TUC), sector bodies (including the National Farmers' Union, Federation of Small Businesses, BMA and the Creative Industries Federation) and other important voices (the British Youth Council and British in Europe) – full list of contributors below.
Each contributor has outlined what they will need from the UK's post-Brexit migration policy vis-a-vis EU nationals. Jean Lambert MEP rounds these into ten concrete policy recommendations for the UK Government.
Together, they send a strong message to the Government: we need a migration policy that recognises and protects migrants' immense contribution to our economy and society.
Jean Lambert, London's Green MEP and the Green Party's migration spokesperson, said:
"The Government's determination to end free movement shows that it's completely out of touch with the needs and realities of modern Britain. As this collection of essays shows, continuing along its current path will cause immense damage to individuals, communities, businesses, and Britain's reputation on the world stage.
The Government can't take crucial decisions, which will affect future generations, in an echo chamber. And while the Migration Advisory Committee report, published this week, acknowledges the immense contribution of EEA migrants to the UK's economy, it doesn't go nearly far enough to safeguard their rights and protections.
It's time for a fresh approach. Rather than pandering to fears over immigration, ministers need to act in the overwhelming public interest. This would involve abandoning its arbitrary net migration target which feeds the hostile environment, protecting the benefits of free movement, and investing in integration schemes that foster better connections within communities.
I urge the Government to listen to the voices in this collection, and use them to construct an open, fair, humane and efficient immigration policy that will benefit all."
Ten recommendations to the UK Government
1.    End the hostile environment
2.    Do not diverge from the current free movement system
3.    Ensure the system is simple, transparent and accessible
4.    Ensure the system is low-cost and affordable
5.    Scrap the net migration target and end the refusal culture
6.    Secure an adequate intake of workers across all skill levels, from 'low' to 'high' skilled
7.    Guarantee there will be no further restrictions on family rights
8.    Keep pace with the EU on workers' rights
9.    Invest in integration
10.    Remain open to the world and to our neighbours
Full list of contributors
Jan Doerfel Chambers: Jan Doerfel, Direct Access Immigration Barrister
Migrants' Rights Network: Rita Chadha, Interim Director
British Future: Jill Rutter, Director of Strategy and Relationships
TUC (Trades Union Congress): Rosa Crawford, Policy Officer, and Elena Crasta, European Officer
Permits Foundation: Kathleen Van Der Wilk-Carlton, Board Member
NFU (National Farmers' Union): Tamara Hill, Employment and Skills Adviser
EEF (the manufacturers' organisation): Tim Thomas, Director of Employment and Skills Policy
FSB (Federation of Small Businesses): Michael Lassman, Regional Chairman – London
BMA (British Medical Association): Paul Laffin, EU Public Affairs Manager
Creative Industries Federation: Samuel Young, Deputy Head of Policy and Public Affairs
Centre for Global Higher Education: Dr Ludovic Highman, Senior Research Associate
British Youth Council: Lucia Jones, UK Young Ambassador
British in Europe: The Steering Committee, British in Europe