7 March 2019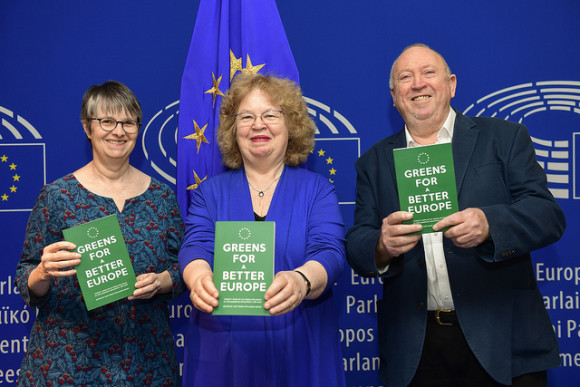 · Led on crafting EU air pollution laws which have landed the UK Government in court three times for breaching toxic air limits
· Helped to establish European Health Insurance Cards (EHIC) which give citizens access to emergency healthcare across the EU
· Secured a VAT exemption for small businesses across the EU
​· Banned illegally logged timber from being sold in the EU
Over the past 20 years, the UK's Green MEPs have been hugely influential in the European Parliament. Everyone living in modern Britain – and the rest of the EU27 – will have been touched by the causes they have campaigned for, and the progressive policies that have resulted. Should Brexit go ahead, UK citizens look set to lose many of these rights and protections.
A new book, Greens for a Better Europe: Twenty Years of UK Green Influence in the European Parliament, 1999-2019, reveals the untold story of the UK's current and former Green MEPs: Caroline Lucas, Jean Lambert, Keith Taylor and Molly Scott Cato.
The book – which can be downloaded for free – brings together academics, journalists, campaigners and Green MEPs from across the EU to chart and analyse two decades of Green achievements. Contributors to the book include environmentalist Tony Juniper, the University of Strathclyde's Wolfgang Rüdig, Make Votes Matter's Klina Jordan and Owen Winter and former Green Party leader Natalie Bennett.
Caroline Lucas, Green Party MP for Brighton Pavilion, said:
"I am proud of the contribution that Green MEPs from the UK made to the European Union in our 20 years there. In an increasingly divided political world, we fought for what was right, and we did so while swimming against the tide more often than not.
Greens for a Better Europe highlights what our Party can achieve when the electoral system is not stacked against us, and when we work closely with our European neighbours in pursuit of shared, ambitious, green goals."
Jean Lambert, Green MEP for London, said:
"Over the past two decades, the UK's Green MEPs have led on many issues that other parties have only just begun to recognise, and on which they are still far behind.
This book gives an insight into how the Greens have worked with colleagues, across party lines, to make Europe a safer, healthier and greener place.
These pages also make it dazzlingly clear that the British political system is broken. The UK's approach, which treats compromise as a dirty word, now threatens to undermine the rights and protections we have fought so hard for. British politicians have a huge amount to learn from their European neighbours about how politics can, and should, be done."
Keith Taylor, Green MEP for the South East of England, said:
"UK Greens have been making a difference in the EU for two decades now. That we're reflecting on that fact as Britain hurtles towards a catastrophic Brexit is beyond bittersweet.
Greens for a Better Europe is loaded with success stories that demonstrate what we can achieve when we work together with our European partners and friends to improve the lives of 500 million citizens across Britain and the EU.
Brexit is a disaster. This book will inevitably put the spotlight on exactly what we have to lose. But it also sets out a vision for how Greens can maintain our internationalist efforts to collaborate with our allies across Europe, and the world, to tackle the biggest crises facing our planet today."
Molly Scott Cato, Green MEP for South West England and Gibraltar, added:
"Greens in the European Parliament have always punched well above our weight. Our influence has far exceeded the size of our electoral support. This is proof that the radical ideas we put forward on a green economy and sustainable finance; the precautionary principle and a more equal society, are in fact common sense proposals that work for the common good and are therefore hard to oppose.
It is also fair to say that we would not have witnessed the influence of the UK's Green MEPs had it not been for the proportional system used for European elections. It is ironic that 'take back control' could end the most democratic national elections the UK has ever seen.
We live in a world that is increasingly interconnected. We cannot solve global problems like climate breakdown and corporate tax avoidance as one country. In our globalised economy we need to work together, as Europeans and as global citizens, to find just and sustainable solutions."
"If we don't change we will perish. Only the Greens truly recognise this. Strong Green Party voices at every level of government are vital."
Sir Mark Rylance (Actor, theatre producer and director) – "I can say with confidence that the power of Greens and their ideas in politics have never been more essential."
Tony Juniper (Campaigner and environmentalist) – "England's Green MEPs have been among the highest profile and most effective MEPs, so far as civil society is concerned."
Nick Dearden (Director, Global Justice Now) – "England's Green MEPs have been among the highest profile and most effective MEPs, so far as civil society is concerned." 
Notes:​​
Title: Greens for a Better Europe; Twenty Years of UK Green Influence in the European Parliament, 1999-2019
Editor: Liam Ward
Publication: 7th March 2019
Formats: Paperback, ePub and iPDF
ISBN: 978 1 907994 88 3
Price: FREE
Authors: Caroline Lucas, Tony Juniper, Keith Taylor, Molly Scott Cato, Jean Lambert, Reinhard Butikofer, Wolfgang Rudig, Samir Jeraj, Natalie Bennett, Klina Jordan, Owen Winter.
Distributors: Barnett's of Wadhurst; Griffin Books, Penarth; Philip Howard Books, Leeds; Chepstow Books & Gifts; News from Nowhere, Liverpool; Five Leaves Bookshop, Nottingham; Stoke Newington Bookshop, London; The Book House, Oxfordshire; Warwick Books; Housmans, London; City Books, Hove, Five Leaves Bookshop, Nottingham