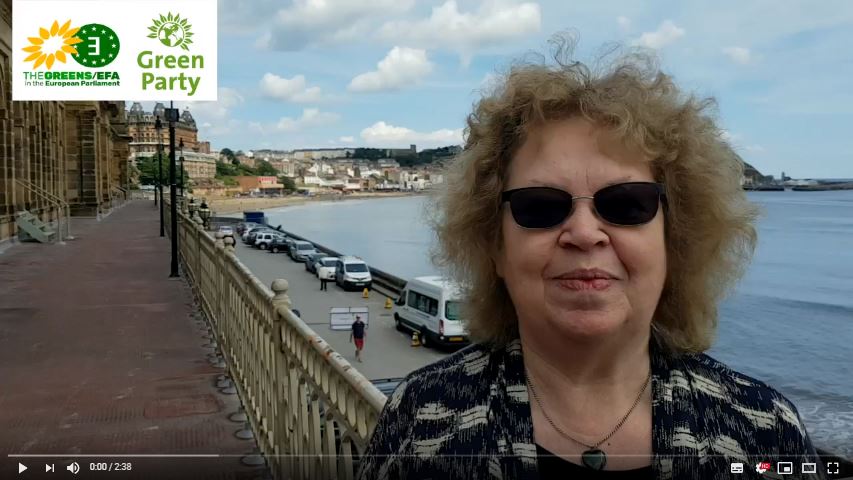 10 June 2019
This year we saw a #GreenWave in politics, with wins for UK Green Party MEPs and councillors, as well as for the wider European Green Party. Whilst the situation we find ourselves in is very far from ideal – there are reasons to be optimistic.
Read Jean's message from the 2019 Green Party Conference in Scarborough below, or watch it on YouTube here.
"I am here in beautiful Scarborough for the Green Party's Conference, to celebrate the Greens' successes in the local and the EU elections!
Spending time here at the coast, it strikes me how much has changed since the 1970s, when the Government used to pump untreated sewage directly into the sea. Thanks to EU standards on waste disposal, clean beaches and plastic pollution, the UK Government has been forced to clean up its act.
Yet, despite these improvements, UK governments continue to allow illegal levels of waste to seep into our seas. In 2012, the European Court of Justice ruled that the UK had broken water quality rules and gave the Government five years to resolve the problem. Having failed to resolve this, the UK Government now faces returning to the European Court and a possible hefty fine.
If Brexit happens, who will hold our Government to account on these types of issues? Can we really trust the likes of Johnson and Gove to keep pace with the EU's bold environmental targets on things like water, air and plastic pollution? Given the Government's poor record so far, I think we all know the answer to that question. It's crystal clear that these types of issues will only be solved by working together with our European neighbours, and using our combined might to make sure Governments across the European Union,are doing their bit the health of people and planet.
This year, you have elected a record number of UK Green Members of the European Parliament,including the first here in the Yorkshire & Humberside – the wonderful Magid Magid. With 74 MEPs, the Greens/EFA group is now the fourth largest political grouping in the European Parliament, and we are larger than any the populist right wing groupings. [1]
The Greens/EFA group will, as always, be striving for more ambitious environmental targets,to protect our environment and prevent an imminent climate catastrophe, we're confident that we'll be able to keep up the fight for the next five years.
Because the future is bright, the future is Green, and 'Brexit is not a done deal.'"
Notes:
[1] An additional German Green Party MEP was added from time of recording and there are now 75 Greens EFA Group MEPs in the European Parliament www.greens-efa.eu/en/article/press/greens-efa-group-positions-elected/