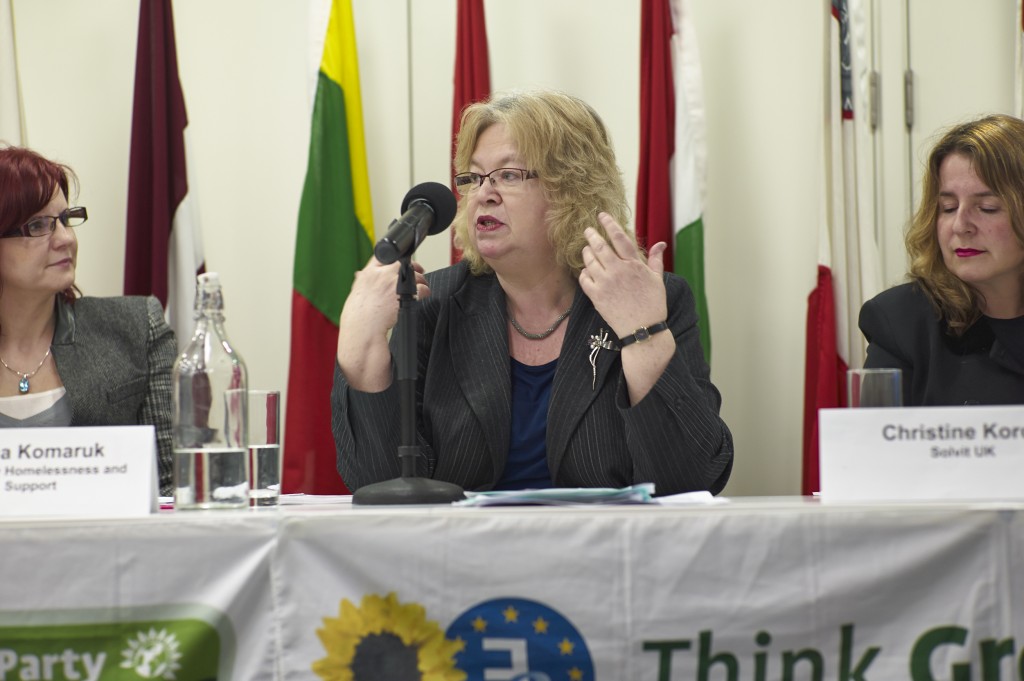 You are a Green, so why is much of your work related to social issues – shouldn't you be more interested in working on environmental issues?
Green politics covers all areas of policy and at its core is the aim to create ecological sustainability. The means protecting our environment by moving towards renewable sources of energy and taking responsibility for our carbon footprint. It also means promoting a fairer, inclusive society, by investing in education, social housing and local services, and introducing the living wage, so that everybody has the opportunity to live in dignity and free from poverty. These two strands are, of course, not mutual exclusive, and the creation of green jobs is key to achieving ecological sustainability.
What do you like most about being an MEP?
I enjoy working in an international environment; after all Green politics is global politics. It's a privilege to meet different local organisations and see how our politics work on the ground. If in any small way I can influence positive change for the people most in need of our help that too is an honour and responsibility I take very seriously.
What do you like least about being an MEP?
On the whole, there are more positives than negatives. What took the most getting used to was being away from my family for four days of the week. I also find it difficult reading the negative press MEPs often receive and get frustrated with the ill-informed picture often painted in the press of the work we do.
Do you spend a lot of time travelling?
I travel every week. My home is in London but Parliament meets in Brussels for Committees and group meetings for three weeks out of four and in Strasbourg a week a month for full Parliament meetings and votes (plenary sessions). I might also visit other countries in my role as Chair of the South Asia Delegation, attend conferences in various European cities as a key speaker and support local grass-roots projects in London.
I've heard about the Brussels 'gravy train'. Do you get a lot of financial bonuses for being an MEP on top of your salary?
We do not receive financial bonuses. We do, however, receive certain allowances on top of our salary. As of July 2009, it was ruled that all MEPs should be paid the same and it was set at 38.5 per cent of the basic salary of a European Court judge – the equivalent of a gross monthly salary of €7,807.12. I then receive a daily allowance to cover accommodation (hotel or rent) and meal costs for any day I attend a Parliamentary meeting. Our travel costs are covered by a formula based on the cost of a standard, flexible ticket plus distance travelled and distance from airport or station. We get allowances to pay for staff and office expenses in our constituency.
I read that most MEPs have money left over from the money they get for travel expenses. What do you do with this money?
Travelling by Eurostar leaves little cash left over – it's an expensive train. Any surplus monies from other journeys for Parliamentary meetings goes towards my UK travel costs and enabling members of my party to attend international Green meetings and stay in touch with the work I am doing.
How did you come to be an MEP? What made you decide to stand to be an MEP?
We face global problems which we can't deal with only on a national basis. I want to be part of an international movement for positive change. The European Union has increasing power and I want to try and shape that. I studied modern languages, had been involved with the European Green parties for many years and campaigned to change the electoral system, so when the chance to run as a candidate for the European Parliament came I grabbed it!
How much influence do you feel you individually have in the Parliament?
More than you might think. Apart from the legislative work where, if you are responsible for a report, you can become Parliament's expert and help decide policy, there are other ways to have influence. You can raise issues directly with the Commission and propose changes. You can hold events in Parliament to introduce organisations and issues. You can visit other countries to gain publicity on an issue and put pressure on governments. MEPs are not powerless.
How much do you represent London in your work, and how much the Greens?
I try to connect London and the Parliament. If I'm talking about issues of asylum, I raise issues constituents have raised. If I'm working on a report, I will try to visit relevant organisations in London. I also try to link issues with Green colleagues in the London Assembly as I have done on issues of social housing and cuts to housing benefits. You can only make a difference if you make the links and push for change.