In November 2016 I produced a factsheet entitled "The Rights of EU nationals in the UK".
Written by Colin Yeo, barrister at Garden Court Chambers, it answers several of the most commonly-asked questions by EU nationals in these uncertain times following the UK's vote to leave the European Union.
This factsheet is also available in Polish: "PRAWA OBYWATELI UE W UK".
I have had meetings with a number of the groups representing EU nationals in the UK and UK nationals in other EU countries. I will maintain contact with them so we can continue to engage together. These include the 3 million campaign, Brexpats, New Europeans and British in Europe. Please find here a list of relevant organisations and initiatives that have expertise in this area and may be able to help if you have specific questions or concerns. This list will be added to continuously.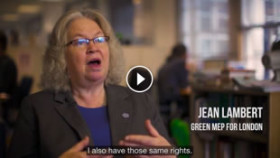 Here is a short video I have created, outlining why I and the Greens support Freedom of Movement and will fight to maintain it.

To see more on my priorities in terms of getting the best deal for London and the UK as we exit the EU, please read my Green Guarantees leaflet.