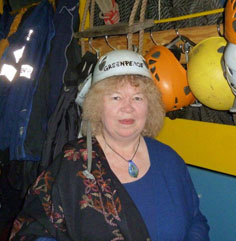 EURO-MPs Jean Lambert and Keith Taylor have demanded the immediate release of 27 environmental activists being held without charge by Russian authorities.
The Green Party MEPs have asked the Russian Ambassador in London Alexander Yakovenko to explain why the non-violent activists – who were detained when their ship, the Arctic Sunrise, was detained yesterday – are being held, as well as insisting that they are immediately released or charged with a criminal offence.
Ms Lambert, London's MEP – who visited the Arctic Sunrise when it was moored in London to mark World Oceans Day earlier this year – said: "Russian and international law prohibit the detention of political activists without charge or due process – and that is exactly what we are seeing in the Arctic.
"Russia must release – or charge – all the activists, immediately, and launch a public investigation into the intimidation of peaceful protests, and the destructive activities of oil companies in the Arctic."
Keith Taylor, South-East England's Green MEP, added: "Greenpeace International is reporting that as many as 30 of its activists are being held without charge after being arrested at gunpoint for nothing more than expressing peaceful opposition to the destruction of the Arctic by oil companies.
"They must be released or charged immediately."
ENDS
For further information, click here