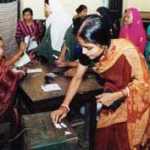 EURO-MPs have called on all political parties in Bangladesh to take part in January's presidential election – despite the murder of 30 people in pre-election violence and threats of a boycott of the poll by the BNP opposition.
The European Parliament this week warned that a planned EU election observation mission would be 'pointless' if an election boycott goes ahead.
London's Green MEP Jean Lambert, who chairs the European Parliament's delegation to South Asia, was one of the sponsors of the debate.
She said: "All citizens must be given a genuine political choice, and that means all parties should participate in the January presidential election.
"Bangladesh has a lot of problems – safety standards in the country's many garment factories are poor, as we saw when more than 1,000 workers died in the Rana Plaza factory collapse earlier this year – and there are an increasing number of people on 'death row' in the country.
"But social and economic stability – and Bangladesh's recent impressive progress on disaster management, poverty-reduction, labour rights and women's empowerment – depend on political stability.
"The EU will be sending an election observation mission to the country to help with that process, but such a mission will be pointless if the opposition parties refuse to take part, and we see more 'hartals' – or general strikes – which have already seen five senior opposition leaders and some 1,000 BNP followers and members arrested in rural areas this month alone.
"Such strikes really affect people's lives as many rely on daily pay."
The resolution came after Bangladesh PM Sheikh Hasina announced a cross-party 'interim cabinet' last week, which BNP spokesperson Rizvi Ahmed described as a 'farce', arguing that the BNP and its allies would boycott the January election unless Ms Hasina steps down beforehand.
MEPs also called for Bangladesh to end its use of the death penalty – and to respect UN calls for better protection for human rights campaigners in the country.