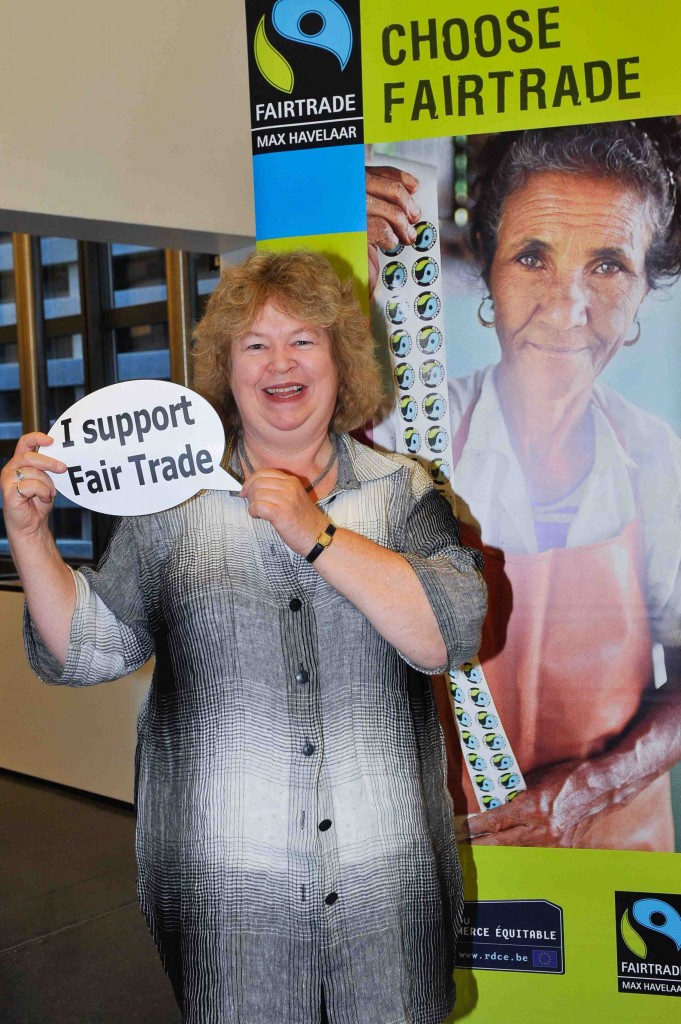 03/03/2014 London Green MEP Jean Lambert helped Fairtrade to launch a "gorilla tactic" campaign against unfair banana prices.
The Waltham Forest Fairtrade Campaign Group held a stall in Walthamstow, east London as part of the Make Bananas Fair campaign for this year's Fairtrade Fortnight.
The stall raised awareness of the supermarket price wars over Britain's bananas – which has seen the price of loose bananas almost halved while production costs doubled, leading to a threat to the livelihoods of thousands of growers.
The campaign is calling for the UK Government to investigate the pricing practices, and for supermarkets to ensure living wages are paid to farmers.
Lambert said: "We eat over 5 billion bananas a year in Britain – but the bruising battle for the lowest prices has led to the farmers who grow our favourite fruit being trapped in poverty.
"People have a choice to buy Fairtrade, but we want all trade to be fair. "The prices being paid to most growers is not fair, and not sustainable. Every banana farmer deserves to earn a decent standard of living, and be able to put food on their own table.
"The UK Government must investigate these damaging pricing practices, and our big supermarkets should act ethically and make sure their growers get a living wage."
More information on the campaign here: http://fairtradeblog.tumblr.com/post/78559092647/vince-cable-will-you-help-make-bananas-fair
Petition: http://foncho.fairtrade.org.uk/
The Fairtrade Report on banana prices: http://www.fairtrade.org.uk/includes/documents/cm_docs/2014/B/Banana%20Policy%20Report%20LoRes.pdf