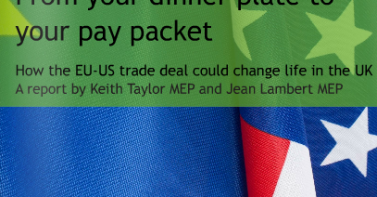 12/03/2014 Jean Lambert MEP welcomed the opposition to the EU-US trade deal (TTIP) from Trade Unions and campaign groups, which strengthened Green calls for a halt to the negotiations taking place in Brussels this week.
The campaigners have written an open letter to Business Secretary Vince Cable, with signatories including UNISON, GMB, the World Development Movement and the National Union of Teachers. The letter points to research which found TTIP is unlikely to boost employment, and work from the European Commission which suggested TTIP will "entrench European inequality."
The letter calls for the UK Government to organise a public consultation on the TTIP treaty, and ensure public services are protected from further liberalisation.
UK Green MEPs Jean Lambert and Keith Taylor published a joint report on the threats posed by the trade deal this week. Greens are currently the only major group in the European Parliament which opposes the deal.
Lambert said: "The opposition to the EU-US trade deal is getting louder as its potential consequences become clear.
"As research shows, the deal is not about boosting jobs or cutting tariffs, it's about watering down standards and handing more power to big businesses.
"It could threaten the future of public services like the NHS by opening them up to be run by overseas companies – and stopping future governments from bringing them back into public hands."
"As the other UK parties bicker over a referendum on EU membership they are all ignoring the 'elephant in the room', the EU-US free trade deal, which poses the real threat to our democracy. Anti-EU parties oppose cross-border regulations which protect our rights, but they seem to have no problem being ruled by big business.
"It's time for the UK Government to listen to these legitimate concerns – and for this damaging deal to be scrapped before it's too late."
NOTES
The open letter is accessed here: http://issuu.com/wdmuk/docs/ttip_letter_march_2014#
Report on TTIP from UK Green MEPs Jean Lambert and Keith Taylor accessed here: http://www.jeanlambertmep.org.uk/DocumentStore/TTIP%20FINAL.pdf