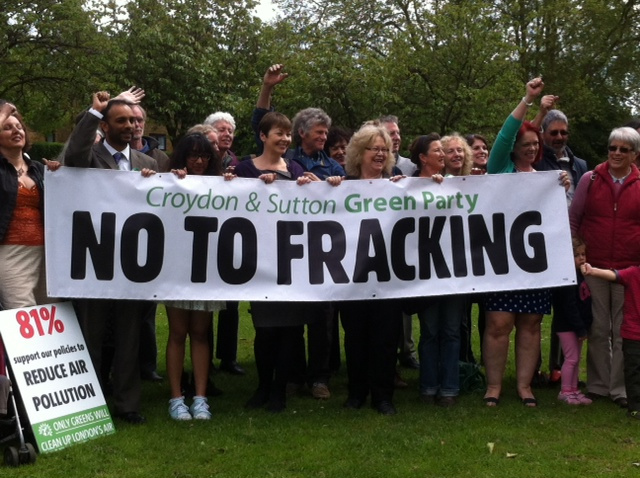 14 May 2014
London's Green MEP Jean Lambert has visited a potential site for fracking in Croydon with MP and anti-fracking activist Caroline Lucas.
Dr Lucas is a leading voice in the campaign against fracking who was arrested during a peaceful protest at the exploratory drilling site in Balcombe (and later cleared of all charges).
Croydon is one of the London boroughs which has already been granted an exploration license for fracking.
Ms Lambert said: "Many people aren't aware that fracking is a threat not just to our countryside, but to our capital too. It's absurd to even consider drilling for shale gas in our overcrowded city.
"With London's pollution at dangerous levels, instead of taking action to clean up our air, the UK Government and London Mayor just stick their heads in the soil – looking for more pollutants to dig up.
"Fracking is not a quick-fix solution to our energy needs – it's a distraction from the clean green solutions we need. It keeps us dependent on fossil-fuels, accelerates climate change, and threatens the local environment with risks to drinking water supplies, air and noise pollution.
"Rather than of listening to the oil and gas lobby, governments must listen to the climate scientists and halt this damaging dash for shale gas.
"Greens in Europe are calling for fracking to be stopped across the continent, and until this happens we are working to close the gaps in EU fracking regulation to better protect our air, soil and landscapes. We need more Greens in Europe to make sure energy policy moves in the right direction.
"We also need more Greens across the capital to keep London a frack-free zone: only Greens will put public health before corporate wealth."