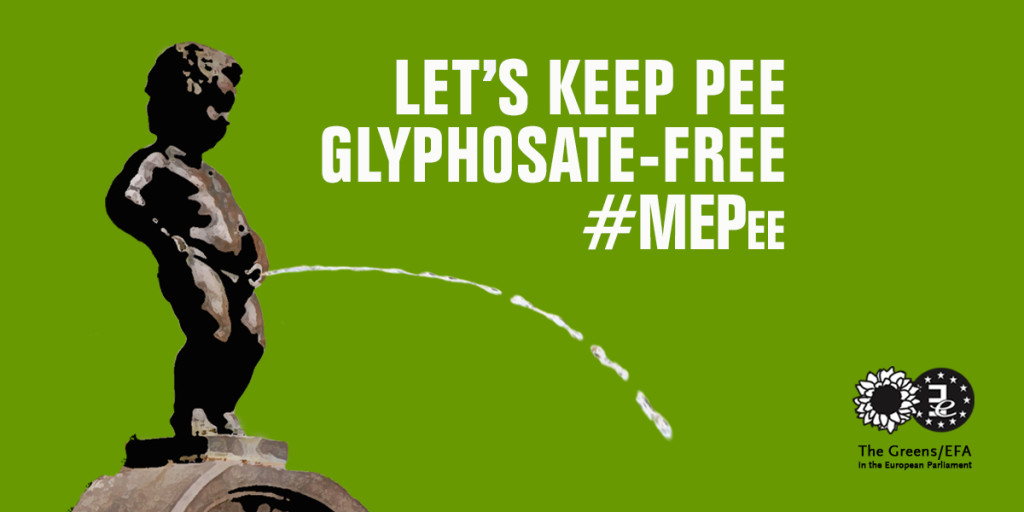 12.04.2016
Green Party MEPs are among a cross-party group of MEPs taking part in a test to assess the level of glyphosate in their urine, ahead of a vote tomorrow to oppose EU relicensing of the controversial weedkiller.
Glyphosate is the world's most widely used herbicide. However, glyphosate does more than just kill weeds. In fact, the World Health organisation confirmed last year that the substance is "probably carcinogenic" to humans.
Keith Taylor, MEP for the South East, Molly Scott Cato, MEP for the South West, and Jean Lambert, MEP for London, are taking part in the symbolic action to raise awareness of the omnipresence of glyphosate in our daily life. The suspected carcinogen is highly prevalent in our environment, our food and, therefore, even in our bodies, and… urine.
The inspiration behind what is being labelled the #MEPee test is the results of a recent study in Germany which found that 99.6% of people tested were found to have glyphosate residue in their urine.
Keith, Molly, and Jean, who are part of the 50-strong Greens/EFA group in the European Parliament, have also lent their support to a joint letter sent to the Commissioners, Juncker, Timmermans, Andriukaitis, and Hogan, challenging them to take the same test.
Jean Lambert, a member of the European Parliament's Justice Committee, said:
"Glyphosate is not only used in rural areas – it's widely used in cities, in urban parks and public spaces, and on our streets and pavements. Everyone has reason to be concerned and already two-thirds of people want it banned. I'll be waiting with trepidation for the results of my test and in the meantime, I call on the European Parliament to vote for a ban and put our health and environmental concerns ahead of the profits of chemical industry giants."
Keith Taylor, a member of the European Parliament's Environment and Health Committee, said:
"This urine test might seem like an attention-grabbing stunt, but we're not taking the proverbial. Glyphosate, developed and patented by Monsanto, is a controversial substance. The World Health Organisation has concluded, following a comprehensive review of the published scientific data, this toxic substance is "probably carcinogenic". And, while the UK government has urged MEPs to wave through reauthorisation, I am calling on my colleagues in the European Parliament to join Green MEPs in voting to protect the health of the British people."
Molly Scott Cato, a member of the European Parliament's Agriculture Committee, said:
"As Greens in the European Parliament, we are demanding to see the 'Mysterious Three' studies, upon which EFSA's positive conclusion for glyphosate apparently hinges. Instead of pushing European farmers into the vicious and costly circle of buying pesticides and pesticide-resistant GM crops, we should instead be transitioning to sustainable and healthy agriculture that can produce food safely, without damaging our environment and human health or threatening biodiversity. We believe the EU is the place to do battle with powerful agri-business and its profit-based motives on behalf of UK citizens, but it is clear that this will only be possible while the UK is a member of the EU."
Earlier this month, the Parliament's Environment and Health committee supported the resolution to oppose relicensing by a large majority.
The European Parliament will vote on the non-binding resolution, which calls for an end to glyphosate use in Europe, at a plenary session in Strasbourg tomorrow.
ENDS