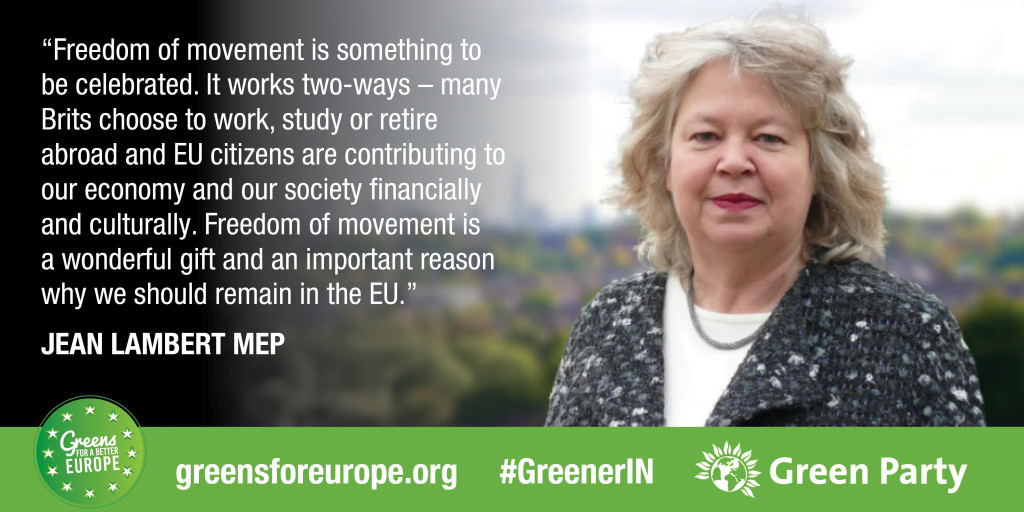 17th May 2016
​London's Green MEP, Jean Lambert, is celebrating how freedom of movement benefits Londoners and is a positive thing for life in the city, as the country counts down to the referendum on European Union membership on June 23.
Over the remaining five weeks of its campaign for the UK to Remain in the EU, [1] the Green Party will be spelling out the many benefits of EU freedom of movement rules which mean British citizens can easily live, work, study, and retire abroad, as well as the ways EU citizens enhance life in Britain. These benefits are particularly apparent in the capital which has more residents from other EU countries than any other part of the UK and i​s rightly seen as a welcoming city.
Around one third of non-UK EU citizens based in Britain live in inner and outer London. [2] Londoners' lives are already intertwined with other Europeans. Data obtained by the Green Party shows that 6 in every 100 officially recorded couples in London – more than 100,000 in total – are made up of a British national in a relationship with someone of another EU nationality. [3]
Jean Lambert, MEP for London and Greens' migration spokesperson said:
"Freedom of movement is absolutely something to be celebrated. Londoners live alongside people from every other EU country and many more besides, and Londoners are among the most pro-European people in the country. Life is enhanced by living alongside people from other countries. [4]
"Freedom of movement works two-ways – something those who would like us to isolate ourselves from our European neighbours are happy to ignore. Many Brits choose to work, study or retire abroad, as is their current right, and a decision to leave the European Union would cast into doubt our continued ability to exercise this right.
"EU citizens are contributing to our economy and our society – financially and culturally. I am grateful to all the people from the EU working in our care homes, hospitals and other public services and I am happy that Brits can experience life elsewhere in Europe. 
"As the Green Party we reject the accusations and fear-mongering which is characterising the debate on our future in the EU far too much. We don't deny that the EU is in need of reform but we have a positive vision for the future of Europe, which includes the right of EU citizens to move easily between countries, and we are passionate about Remaining in the EU on June 23rd."
The party's Greens for a Better Europe campaign is highlighting the fact that more than one million British-born people are living elsewhere in the EU. These include more than 300,000 people in Spain and nearly 200,000 in France. [5] More than 10,000 students study at European universities every year and can benefit from EU funding via the Erasmus student scheme [6].
They are also pointing to research published last week by London School of Economics [2] which proved that EU migrants make an important net contribution to the UK economy, paying more in taxes than they take out.
Notes:
[1] On 14 March, 2016, the party launched its own, distinct 'Greens for a Better Europe' campaign for the UK to remain in the EU:
[2] About a third of EU immigrants live in London, compared with only 11% of the UK-born.
[3] There are 102,400 couples living in London with one EU and one UK national, out of a total of 1,771,200 couples recorded in the city in total.
[4] London contains 5 of the most Europhile areas in the UK – Lambeth, Camden, Southwark, Hackney, and Brent.
[5] Brits abroad: how many people from the UK live in other EU countries?
[6] http://www.go.international.ac.uk/content/erasmus-figures​