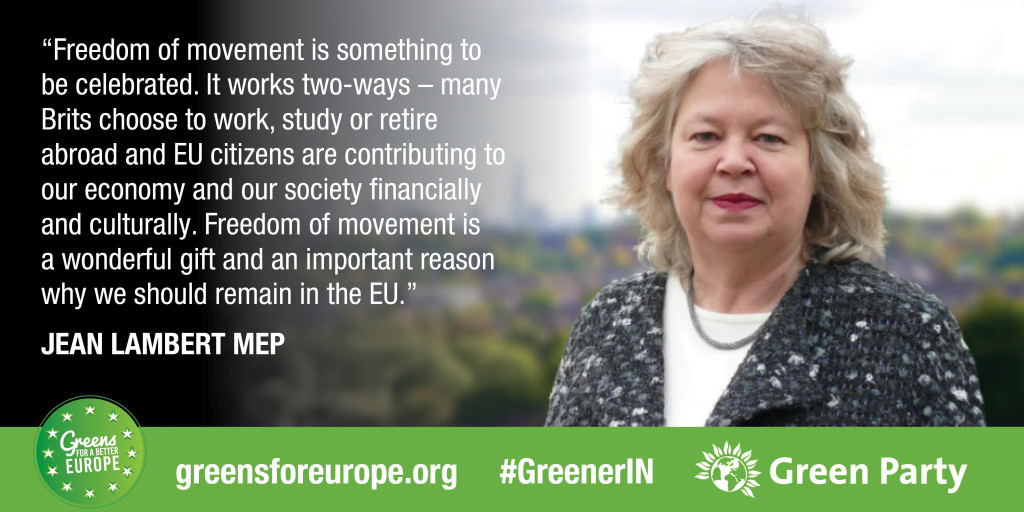 1st June 2016
Proposals today from the EU referendum Leave campaign for a points-based system of immigration for all non-UK nationals wanting to work, study or set up businesses here, would not help our economy or migrants themselves, says Jean Lambert MEP. 
The Green Party's migration spokesperson, Jean Lambert believes much of EU referendum immigration debate has been "misleading" and that the UK is "richer" thanks to freedom of movement across the EU.
Jean Lambert said: "Introducing such work permits would affect hundreds of thousands of citizens and businesses in the UK and hundreds of thousands of British people living and working in the EU, who would then need such permits to work there.
"Misleading statements about immigration are framing free movement as a problem in the EU referendum debate. The truth is that government cuts, and lack of planning and investment in housing, skills and public services are the real problems – not immigration. Michael Gove is a member of this Government and has wholeheartedly supported such spending cuts. As Mayor of London, Boris Johnson ran an administration which failed to deliver on social housing or rent controls.
"EU workers, like other migrant workers, make an important net contribution to our economy. They are our co-workers, our employers, our business associates, our neighbours, our friends, our family. They are contributors – not freeloaders. 
"We are richer in all senses of the word thanks to EU freedom of movement and we should uphold this freedom by voting Remain on June 23."
 Australia is often cited by Leave campaigners as an example of a country with a points-based migration system.
Jean Lambert added: "The Australian model tends to favour highly-educated, high earning people which does not fulfil all labour-market needs, as free movement helps to do in the UK. We need investment in skills and training for people here – not to scapegoat hard-working EU migrants."