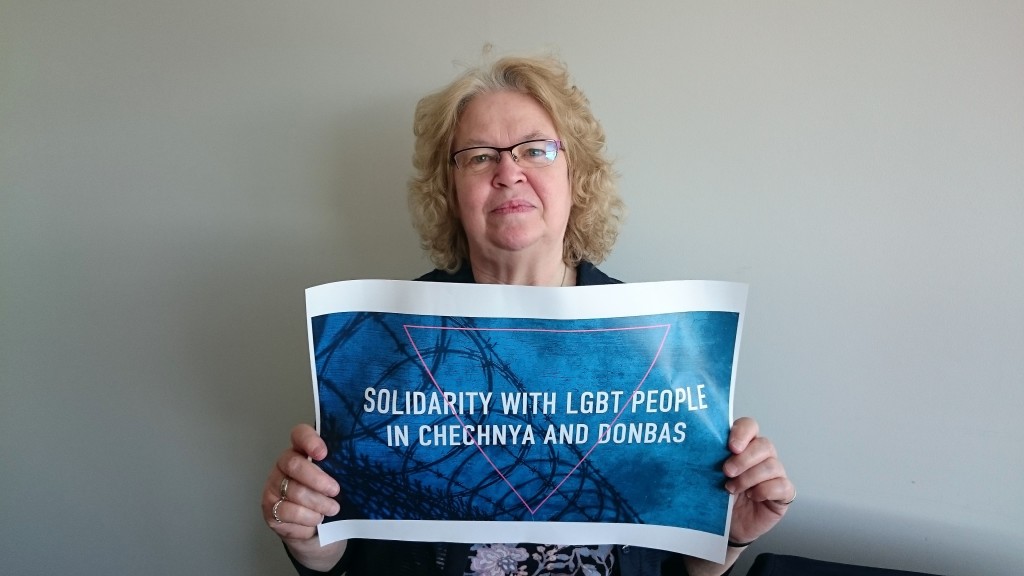 18 May 2017
Today MEPs voted overwhelmingly in favour of taking firm action to halt the ongoing atrocities against gay men in Chechnya. [1]
The resolution follows last month's reports that authorities in the republic had rounded up over 100 men suspected of being gay, and tortured them. At least three are thought to have been killed [2].
Jean Lambert, London's Green MEP and member of the Parliament' Intergroup on LGBTI rights, says:
"It's crucial that the European Union stands up to LGBTI discrimination, wherever it is found. That's why I have voted, alongside many other cross-party MEPs, in favour of taking strong action against the persecution of men perceived to be gay in Chechnya.
In recent months I have been horrified by news reports of the abduction, torture and murder of gay men in the southern Russian republic. The incitement to families to harm their own gay sons and brothers is heartless and another clear sign of state persecution. There is simply no place for such abhorrent human rights violations in the modern world.
Today's decision sends a strong message to the Chechen authorities – the European Parliament demands an immediate end to their campaign of persecution, and the release of every individual who is still detained. The Russian government must investigate these acts and bring the perpetrators to justice through a fair, independent process.
The European Commission has an important role to play in supporting the investigation, providing a safe new home for the victims, and ensuring that all EU member states are effectively implementing the Council's LGBTI Guidelines.
Just one day after the International Day Against Homophobia, Biphobia and Transphobia, let's embrace our differences and say no to discrimination. We call on the international community to condemn Chechnya's actions, and push for concrete measures to put an end to these atrocities and ensure that they can never happen again."
[1] http://www.europarl.europa.eu/news/en/news-room/20170511IPR74352/persecution-of-gay-men-in-chechnya-meps-call-for-urgent-investigation
[2] http://www.independent.co.uk/news/chechnya-gay-men-detain-arrest-round-up-chechen-human-rights-watch-ramzan-kadyrov-a7664486.html
ENDS
Please click here to sign Amnesty International UK's petition, Chechnya: Stop abducting and killing gay men.