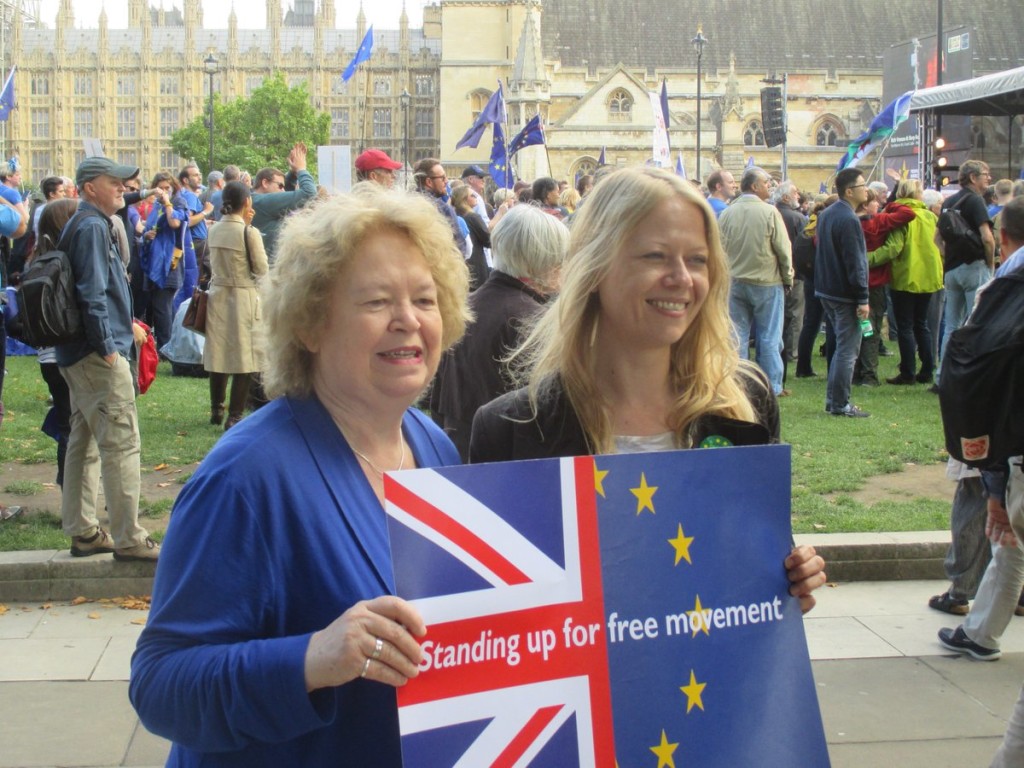 2 October 2018
A Green MEP has claimed that Theresa May's new immigration proposals will be "devastating for British citizens, migrants, communities, businesses and public services".
The Government's new proposals, outlined this morning, will end free movement – subjecting EEA nationals to the same broken immigration system as non-EEA nationals, and creating new barriers for lower-skilled migrant workers. [1]
The new policy is in stark contrast to the 10 recommendations in Jean Lambert MEP's recent publication, Migration and Brexit, which features essays from groups including the National Farmers' Union, Creative Industries Federation and EEF (the manufacturers' organisation) who are extremely concerned about the damage that will be inflicted by these policy changes. [2]
Jean Lambert, London's Green MEP and the Green Party's migration spokesperson, said:
"It's deeply sad to see the Prime Minister celebrate 'ending free movement once and for all'. In reality, we know that slamming the door on EEA nationals will be devastating – for British citizens, migrants, communities, businesses and public services.
Theresa May's new plan is littered with problems. Among the biggest is that it's centred on an absurd and impossible target: reducing net migration to the 'tens of thousands. This figure – plucked out of thin air – is unnecessary, unrealistic and unworkable. It poisons the rhetoric around immigration, and leads directly to the desperately unpopular 'hostile environment' which has already ruined thousands of lives.
Another problem is that is completely disregards the contribution of so-called lower-skilled migrant workers, who have brought so much to our society and economy. My recent report, Migration and Brexit, highlighted that agriculture is not the only sector that relies on workers who earn less than £30,000 to flourish and grow. Without these workers the manufacturing sector could grind to a halt, small businesses be forced to shut their doors and the creative sector stifled. That's not to mention the shattering blow that could be inflicted on the construction, haulage, hospitality, health and social care sectors, if the Government gets this wrong.
By keeping the earnings threshold, the Prime Minister has also shown that supporting the right to family life is not a priority for her Party. As a former Home Secretary she knows exactly what these thresholds do to families – yet she carries on regardless.
As the Prime Minister reminded us today, any deal on citizens' rights is likely to be reciprocal, so she is closing the door on opportunities for UK nationals within the EU. It's a particular disaster for our young people, who did not vote for this, and who will miss out on a wealth of social, cultural and educational opportunities.
Let's not pretend this move is in the genuine interests of the country. The fact that Theresa May made this announcement today, rather than the Home Secretary, exposes the reality behind her hard-line approach. It's designed to appease elements of the Tory party, and give the impression her leadership is 'strong and stable' as the Chequers plan continues to crumble through her fingers. It's intended to stave off a leadership challenge, and satisfy the right-wing press.
The people of the UK deserve better.
Rather than pandering to fears, ministers should act in the overwhelming public interest. This would involve abandoning the Government's arbitrary net migration target, protecting the benefits of free movement, and investing in integration schemes that foster better connections within communities.
The Government must work to shift the tone of the debate, stop scapegoating migrants for its own failures and invest in a positive migration policy if it hopes to reverse the economic and reputational damage being done to this country."
Notes:
[1] https://www.theguardian.com/uk-news/2018/oct/02/eu-citizens-lose-priority-under-post-brexit-immigration-plans
[2] http://www.jeanlambertmep.org.uk/2018/09/21/new-report-london-mep-outlines-alternative-vision-for-the-uks-post-brexit-migration-policy/