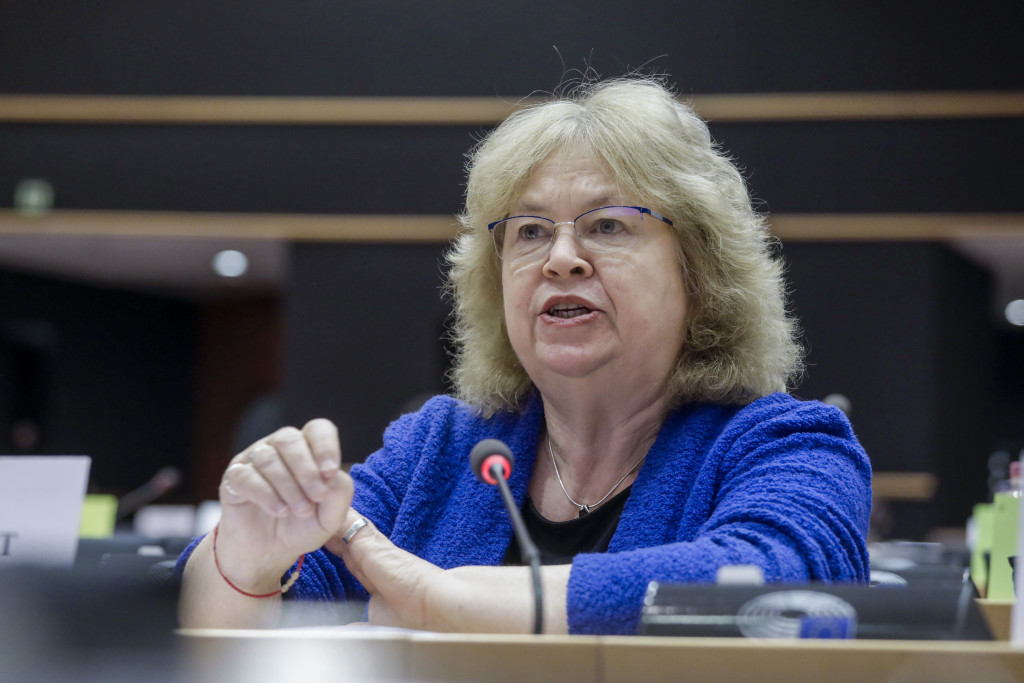 16 October 2018
Jean Lambert, London's Green MEP, is one of 78 MPs, peers and MEPs who have written to the Director of Intelligence at the National Crime Agency and the commander of Specialist Crime at the Metropolitan Police seeking reassurance that they are pursuing criminal investigations into Vote Leave.
The cross-party signatories, which include all three UK Green MEPs, Green Party MP Caroline Lucas, Lib Dem leader Vince Cable, Labour's Lord Adonis and Conservative MP Dominic Grieve, are demanding to know whether the law enforcement agencies are carrying out investigations to determine whether prosecution might be appropriate. They have also questioned whether the Government has put pressure on the agencies to "soft-pedal" the investigation due to political sensitivities.
Read the full letter and the list of signatories below.
Dear Steve Smart
Dear Stuart Cundy
Your Investigation into the Activities of Vote Leave
In August a large group of elected representatives wrote to you requesting that you undertake a thorough criminal investigation and – where necessary – prosecution following the investigations by the Information Commissioner's Office and Electoral Commission into the activities of Vote Leave. The work of the two Commissions is extremely important, but so is your role and responsibility in investigating wrong-doing, enforcing our laws and protecting our democracy.
We were glad to receive your responses but are not satisfied with their contents. You both point towards 'prosecutions' by the Electoral Commission, although it is clear that this Commission has no such powers available to it. Similarly, you both suggest that you are awaiting more evidence before you pursue prosecutions. But if it is not the role of your agencies to seek out such evidence via a thorough and wide-ranging investigation then whose responsibility could it be?
We were concerned to learn as a result of a journalistic investigation that your investigation is stalled, that you are remain in the phase of assessing evidence and that this may be the result of the political sensitivity of the case.
As elected representatives we carry a particular responsibility to defend both the rule of law and the integrity of our democratic system. On that basis we would ask you for absolute clarity with regard to the following questions:
• Do you consider that there is evidence of law-breaking by staff and board members of Vote Leave?
• Are you pursuing an investigation into this matter to determine whether prosecution might be appropriate?
• Have you been approached by government representatives to suggest that you soft-pedal this investigation due to political sensitivities?
The British citizens we represent need to be reassured not only that those who subverted the EU referendum will be held fully to account, but also that there can be no suggestion of our senior police officers being sensitive to political considerations in their decisions about which investigations to pursue. We seek an urgent response from you to provide this reassurance.
Signatories
MPs
1. Rushanara Ali MP, Bethnal Green and Bow (Labour)
2. Tonia Antonniazzi MP, Gower (Labour)
3. Luciana Berger MP, Liverpool Wavertree (Labour coop)
4. Ben Bradshaw MP, Exeter (Labour)
5. Tom Brake MP, Carshalton and Wallington (Liberal Democrat)
6. Lyn Brown MP, West Ham (Labour)
7. Sir Vince Cable MP, Twickenham (Liberal Democrat)
8. Ruth Cadbury MP, Brentford and Isleworth (Labour)
9. Ann Coffey MP, Stockport (Labour)
10. Stella Creasy MP, Walthamstow (Labour)
11. Janet Daby MP, Lewisham east (Labour)
12. Sir Ed Davey MP, Kingston and Surbiton (Liberal Democrat)
13. Geraint Davies MP, Swansea West (Labour)
14. Martyn Day MP, Linlithgow and East Falkirk (SNP)
15. Stephen Doughty MP, Cardiff South and Penarth (Labour)
16. Rosie Duffield MP, Canterbury (Labour)
17. Maria Eagle MP, Garston and Halewood (Labour)
18. Jonathan Edwards MP, Carmarthen East and Dinefwr (Plaid Cymru)
19. Mike Gapes MP, Ilford South (Labour coop)
20. Kate Green MP, Stretford and Urstrom (Labour)
21. Lillian Greenwood MP, Nottingham South (Labour)
22. Helen Hayes MP, Dulwich and West Norwood (Labour)
23. Wera Hobhouse MP, Bath (Lib dem)
24. Margaret Hodge MP, Barking (Labour)
25. Rupa Huq MP, Ealing Central and Action (Labour)
26. Liz Kendall MP, Leicester West (Labour)
27. Peter Kyle MP, Hove (Labour)
28. Ben Lake MP, Ceredigion (Plaid Cymru)
29. David Lammy MP, Tottenham (Labour)
30. Caroline Lucas MP, Brighton Pavilion (Green Party)
31. Catherine Mckinnell MP, Newcastle upon Tyne North (Labour)
32. Anna McMorrin MP, Cardiff North (Welsh Labour)
33. Madeleine Moon MP, Bridgend (Labour)
34. Brendan O'Hara MP, Argyll and Bute (SNP)
35. Layla Moran MP, Oxford West and Abington (Liberal Democracy)
36. Ian Murray MP, Edinburgh South (Labour)
37. Rachel Reeves MP, Leeds West (Labour)
38. Liz Saville Roberts MP, Dwyfor Meirionnydd (Plaid Cymru)
39. Andrew Slaughter MP, Hammersmith (Labour)
40. Owen Smith MP, Pontypridd (Labour)
41. Angela Smith MP, Sheffield (Labour)
42. Jamie Stone MP, Caithness, Sutherland and Easter Ross (Liberal Democrat)
43. Anna Turley MP, Redcar (Labour coop)
44. Chuka Umunna MP, Streatham (Labour)
45. Catherine West MP, Hornsey and Wood Green (Labour)
46. Matt Western MP, Warwick and Leamington (Labour)
47. Philippa Whitford MP, Central Ayrshire (SNP)
48. Hywel Williams MP, Arfon (Plaid Cymru)
49. Paul Williams MP, Stockton South (Labour)
50. Phil Wilson MP, Sedgefield (Labour)
51. Daniel Zeichner MP, Cambridge (Labour)
Peers
1. Baron Andrew Adonis (Labour)
2. Baroness Ros Altmann (Conservative)
3. Lord Michael Cashman CBE (Labour)
4. Baroness Jenny Jones (Green Party)
5. Baroness Ann Ludford (Liberal Democrat)
6. Lord Richard Newby OBE PC (Liberal Democrat)
7. Lord William Wallace (Liberal Democrat)
8. Lord Dafydd Wigley (Plaid Cymru)
MEPs
1. Richard Ashworth MEP, Scotland (Independent)
2. Catherine Bearder MEP, South East England (Lib Dem)
3. Richard Corbett MEP, Yorkshire & Humber (Labour)
4. Seb Dance MEP, London Region (labour)
5. Jill Evans MEP, Wales (Plaid Cymru)
6. Julie Girling MEP, South West England (Independent)
7. Mary Honeyball MEP, London Region (Labour)
8. Jude Kirton-Darling MEP, North East England (Labour)
9. Jean Lambert MEP, London Region (Green Party)
10. Clare Moody MEP, South West (Labour)
11. Molly Scott Cato MEP, South West (Green Party)
12. Alyn Smith MEP, Scotland (SNP)
13. Catherine Stihler MEP, Scotland (Labour)
14. Charles Tannock MEP, London (Conservative)
15. Keith Taylor MEP, South East England (Green Party)